Service Process Flow
TITAN service process flow
TITAN's service process flow involves a holistic approach, beginning with personalized pre-order consultations to understand customer requirements thoroughly. Our team then facilitates a smooth ordering process, ensuring efficient delivery and timely updates. After purchase, we provide comprehensive after-sales support, including troubleshooting guidance, product maintenance tips, and responsive solutions to any inquiries or concerns. Our commitment extends beyond the transaction, fostering enduring relationships with our valued customers.
---
Quotation Flow
In order to provide fast and precise quote of cooling fan and cooler, please note the following quotation process

Inquiry information notice:
Please provide accurate descriptions and needs such as pictures, specification, etc. If it is fan product series, it would better provide operation environment temperature, fan bearing type, connector type, cable length, or some pictures and specification, etc.
If you don't know your unique need, please refer our cooling FAQ to help you define the need.
Confirm all details and quote
In this process, our sale and engineer will communicate and check product details such as specification with you. After mutual confirming, we will provide you a product quotation.
Sample Production
After confirming all details especially specification and price, we will arrange sample production for you. Sample (1-2 pcs) is for free but excluding shipping fee. And a few of products may be charged sample fee.
Sample Devlivery
Sample production is about 7 days. If there's any particular manufacturing, we would inform our client.
Order Process Flow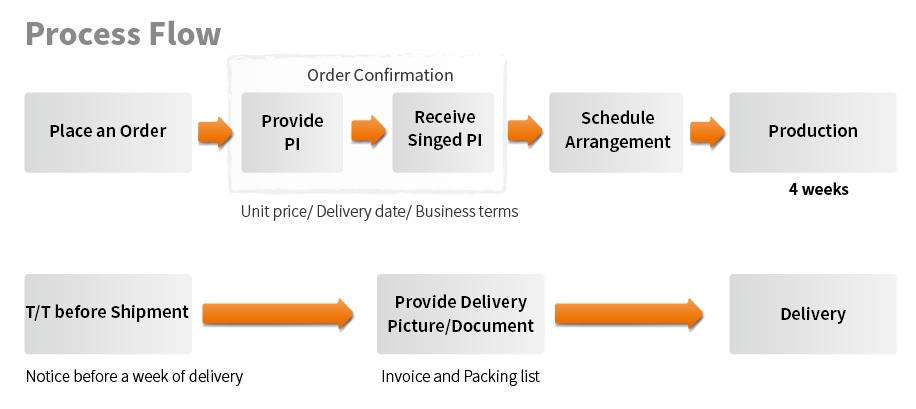 Order Confirmation
After placing an order, you will receive a "Proforma Invoice" from sales department within 48 hours to conform all your order details such as unit price, delivery date, and terms. When receiving the signed PI, we would immediately arrange schedule to manufacture your product.
Schedule Arrangement/ Production
Lead time is four weeks which calculated from the date receiving the signed PI.
If you want to know more about production process, please check "Production and quality control process".
T/T before shipment
Before a week of shipment, we will inform the delivery date. Please arrange the payment before shipping.
Provide Pictures and Document before Delivery
TITAN will provide pictures and shipping documents including invoice and packing list before shipping