What bearing types should I choose?
When selecting a cooling fan, it is crucial to consider both the working environment and the specific characteristics of the fan. Based on your requirements, we offer the following recommendations:

1. If the fan's operating environment experiences temperatures higher than 40°C, we strongly advise opting for the Ball Bearing cooling fan. This option ensures optimal performance and durability under high-temperature conditions.
2. For environments with temperatures ranging between 25°C and 40°C, where an extended fan lifetime is a priority, we recommend selecting the Z-AXIS bearing cooling fan. This choice guarantees reliable and efficient operation over an extended period.
3. If you are seeking a cost-effective solution and the working environment maintains temperatures within the range of 25-40°C, the Sleeve bearing cooling fan is an ideal choice. This option provides a balance between performance and affordability.

Should you have any specific requirements or further considerations regarding the selection of a suitable cooling fan, please do not hesitate to reach out to us directly. Our team is dedicated to providing personalized recommendations and solutions tailored to meet your unique needs and preferences.
---
Fan bearing comparison
Fan bearing type
Recommend
Lifetime
(25°)
Noise
Unit Price
TITAN Model

Sleeve Bearing

Operation: 25-40°C

Consider fan cost

25,000 hours

Quieter at low speed in early life

Lowest

S

One Ball & One Sleeve

Environment temperature is higher than 40°C
35,000

hours

Quieter at high-speed

High

C

Two Ball Bearing

Environment temperature is higher than 40°C
50,000

hours

Quieter at high-speed

highest

B

One Ball Bearing

1. Environment temperature is higher than 40°C
2. Suitable for Slim fan

50,000 hours

Quieter at high-speed

Quieter than Two Ball bearing

Medium

Z-axis Bearing

1. Operation: 25-40°C

2. Consider longer fan lifetime

3. Consider balance performance and cost

60,000 hours

Low

Z
TITAN Fan Bearing Comparison Chart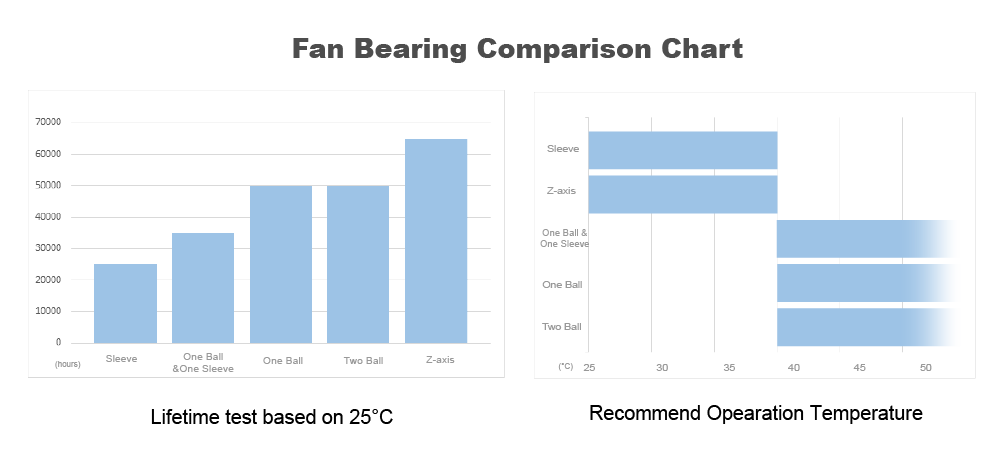 TITAN Model Illustration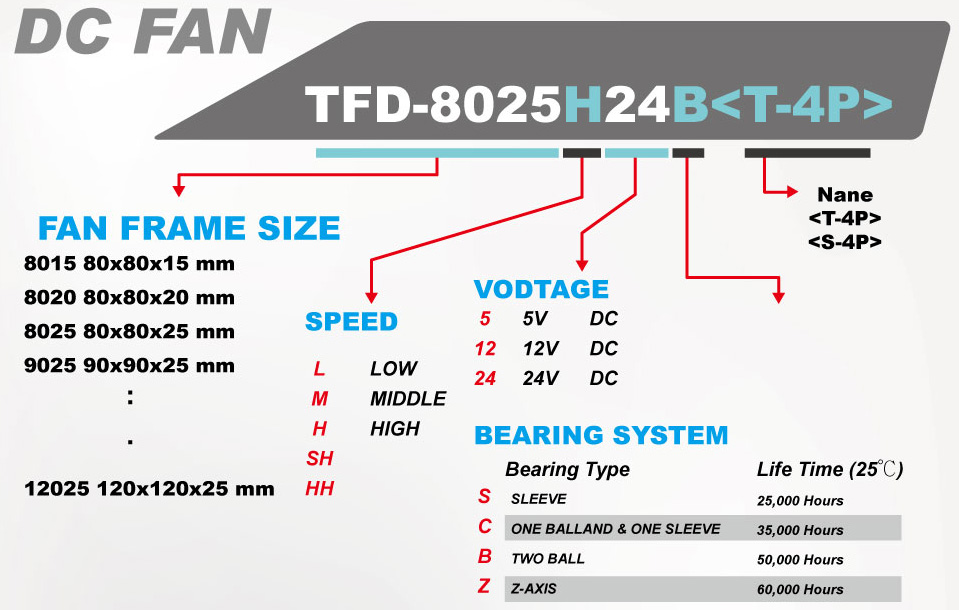 Brief Information of Fan Bearing: Sleeve bearing, ball bearing, and Z-Axis bearing
Sleeve Bearing
Sleeve bearing uses oil-base substances as lubrication to reduce friction in operation. The sleeve bearing is the most common bearing types of cooling fan and usually cheapest, but it has the problem of lubrication issue. If the lubricant of fan bearing evaporates and leaks, the fan system would be destroyed and became loudly. The sleeve bearing has a greater concentration of oil lubrication. Therefore, a sleeve bearing fan is most likely to evaporate and became noise in later life.
Recommend: operation temperature between 25-40°C, consider lower fan cost
Suitable for low-speed rate and below 90mm cooling fan
Lifetime (25°C): 25,000 hours
Noise: Quieter at low speeds in early life
Cost: Lowest
TITAN bearing model: S
Ball Bearing
The ball bearing is a component of balls between the rings and designed to reduce friction and easily rotated. It has a longer lifetime (50,000 hours in 25°C) than sleeve bearing. A ball bearing fan is suitable for higher temperature operation and run more quietly at the high-speed but noisier at the low-speed.
Recommend: operation environment is higher than 40°C
Lifetime(25°C): 50,000 hours
Noise: Quieter at high speeds
Cost: Higher
TITAN bearing model: B
Z-Axis Bearing
TITAN exclusive design fan bearing
TITAN Z-Axis fan bearing is a progress bearing which is fixed the weakness of sleeve bearing and ball bearing. It both has cheaper cost than ball bearing and longer lifetime and reliability than sleeve bearing. TITAN Z-axis bearing is reliable on the worldwide client as well.
Recommend: Operation temperature between 25-40°C and need longer fan lifetime
Lifetime(25°C): 60,000 hours
Noise: fixed the problem of concentration of oil in sleeve bearing.
Cost: Low
TITAN bearing model: Z
Other FAQ

The major function of fan bearing is to make fan blades operated fluently. The purpose of fan bearing is to reduce rotational friction and support axial loads. The fan bearing is the most critical factor...

Read more

TITAN have three major bearing types: Sleeve bearing, Z-AXIS bearing, and Ball bearing. All the cooling fan depends on various need, lifetime, and characteristics to determine bearing choice. Sleeve Bearing:...

Read more

Within a cooling fan, three key components play a vital role: the Integrated Circuit (IC), the Bearing, and the Fan Blades. Of these, the fan bearing significantly influences the overall lifespan and performance...

Read more

When selecting a cooling fan, it is crucial to consider both the working environment and the specific characteristics of the fan. Based on your requirements, we offer the following recommendations: 1....

Read more