DC Cooling Fan with 50mm x 50mm x 15mm Series
TFD-5015xxxx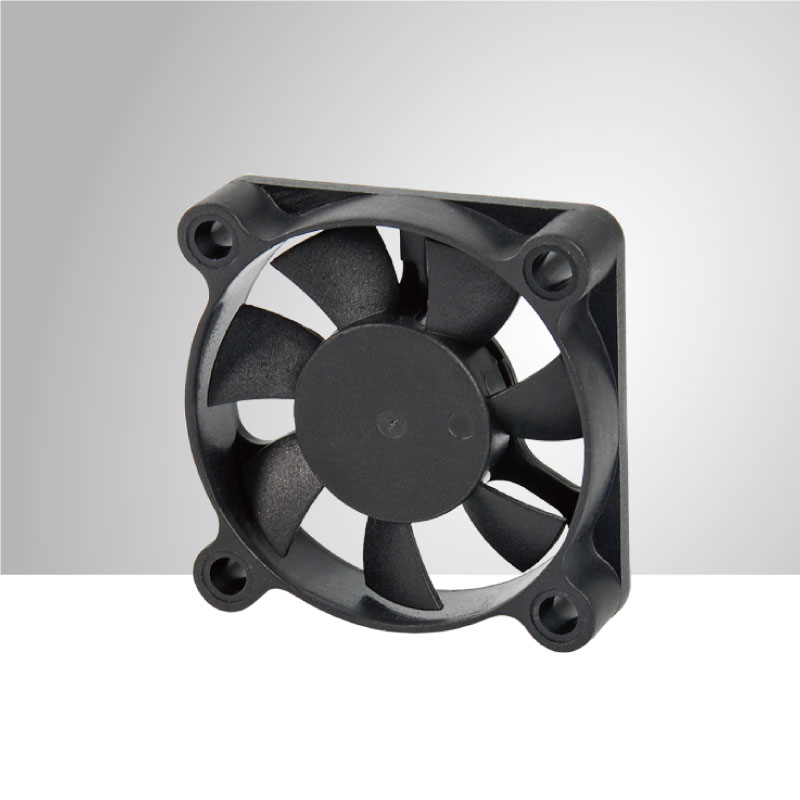 TITAN produced various professional and DC cooling Fan for customers. DC Cooling fan features stability, super silent, and well heat dissipation.

DC fan is one of the best tool available to make your electronic devices performing at excellent operation shape. TITAN professional cooling fan produced top DC cooling fan, TITAN DC fan has great cooling performance and widely application in any fields. Provide various speed rate and voltage to meet all your requirements

It is a Cooling DC fan with 50mm x 50mm x 15mm fan, and we also provide versatile models and volt to meet your all needs.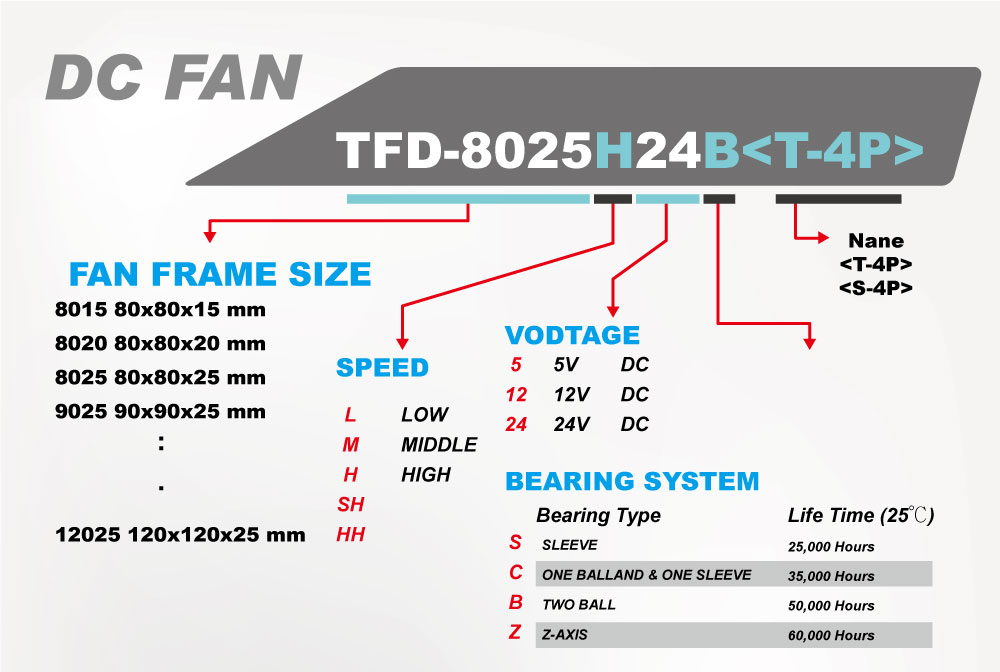 SPECIFICATION DRAWING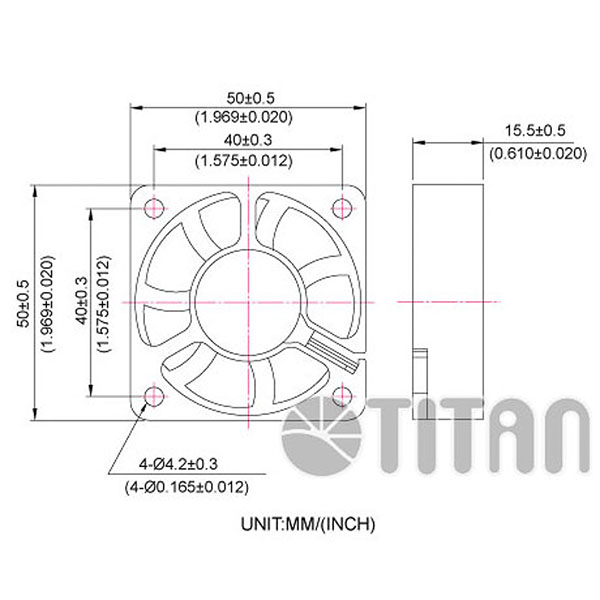 Applications
Cabinet ventilation fan
Amplifier ventilation fan
Car amplifier cooling fan
Cooling solution for all machine
Industrial equpiment cooling fan
Server & storage cooling ventilation fans
Telecommunication equipment & Teletcom cabinet cooling fan
Factory automation /processing machine cooling fan
Sport equipment cooling fan
Treadmill cooling fan
PA equipmentcooling fan
Air purifier cooling fan
Dehumidifiercooling fan
Healcare& Medical cooling fan
Refrigeration cooling fan
Restaurant exhaust fan
Commercial kitchen cooling fan
Office equippment cooling fan
3D printer & projector cooling fan
Photocopier cooling fan
Printer cooling fan
Coffee machine cooling fan
Stage lighting cooling fan
Rejuvenation device cooling fan
Bitcoin miner cooling fan
SPECIFICATION
| Model | Rated Voltage (VDC) | Rated Current (AMP) | Power Consumption (WATTS) | Speed Reference (RPM) | Air Flow (CFM) | Static Pressure (Inch-H2O) | Noise (dBA) |
| --- | --- | --- | --- | --- | --- | --- | --- |
| TFD-5015HH05X | 5 | 0.3 | 1.5 | 5500 | 14.48 | 0.21 | <33 |
| TFD-5015H05X | 5 | 0.26 | 1.3 | 5000 | 13.74 | 0.19 | <31 |
| TFD-5015M05X | 5 | 0.22 | 1.1 | 4500 | 12.66 | 0.16 | <29 |
| TFD-5015L05X | 5 | 0.18 | 0.9 | 4000 | 11.4 | 0.14 | <27 |
| TFD-5015LL05X | 5 | 0.14 | 0.7 | 3500 | 9.85 | 0.11 | <25 |
| TFD-5015SL05X | 5 | 0.12 | 0.6 | 3000 | 8.39 | 0.08 | <21.7 |
| TFD-5015TH12X | 12 | 0.24 | 2.88 | 6000 | 15.79 | 0.25 | <34 |
| TFD-5015HH12X | 12 | 0.2 | 2.4 | 5500 | 14.48 | 0.21 | <33 |
| TFD-5015H12X | 12 | 0.18 | 2.16 | 5000 | 13.74 | 0.19 | <31 |
| TFD-5015M12X | 12 | 0.15 | 1.8 | 4500 | 12.66 | 0.16 | <29 |
| TFD-5015L12X | 12 | 0.1 | 1.2 | 4000 | 11.4 | 0.14 | <27 |
| TFD-5015LL12X | 12 | 0.09 | 1.08 | 3500 | 9.85 | 0.11 | <25 |
| TFD-5015SL12X | 12 | 0.07 | 0.84 | 3000 | 8.39 | 0.08 | <21.7 |
| TFD-5015TH24X | 24 | 0.15 | 3.6 | 6000 | 15.79 | 0.25 | <34 |
| TFD-5015HH24X | 24 | 0.12 | 2.88 | 5500 | 14.48 | 0.21 | <33 |
| TFD-5015H24X | 24 | 0.08 | 1.92 | 5000 | 13.74 | 0.19 | <31 |
| TFD-5015M24X | 24 | 0.07 | 1.68 | 4500 | 12.66 | 0.16 | <29 |
| TFD-5015L24X | 24 | 0.06 | 1.44 | 4000 | 11.4 | 0.14 | <27 |
| TFD-5015LL24X | 24 | 0.05 | 1.2 | 3500 | 9.85 | 0.11 | <25 |
DC cooling fan, 5V DC cooling fan
Package Volume
1CTN(PCS): 500
N.W.(KGS): 10
G.W.(KGS): 14
MEAS'T(CUFT): 1.46
MOQ: 1000pcs
Photo Gallery

Related Products

---

FAQ
Press Release
2018 Computex Taipei

TITAN will participate in Computex Taipei held on June 5- June 9, 2018. Show our latest cooling fan and related computer cooler.

Read More

USB Tower Cooling Fan for Car & Baby Stroller

This is a USB tower cooling fan for car fan, baby stroller fan, wheelchairs fan or office fan etc.

Read More

USB Ultra-Silent Cooling Fan

Equipped with 140mm professional cooling fan. It is strong airflow, ultra-quiet, and log life time.

Read More