12V DC Adjustable Dual X Houlder with Two Fans for PCI Slot /System Cooler DIY Mounting Ventilation Cooling Fan
TTC-SC07TZ(RB)
PCI Slot fan, ventiladores vga, VGA Cooler
VGA Cooling Helper: TITAN- TTC-SC07TZ(BR)
Customize the best cooler you need!
With unique X-shaped dual cooling fans holder design, this VGA cooler features "free style". It can be freely equipped with 4 types of fan (60, 70, 80, 90mm), freely adjust fan allocation, and freely control fan speed. Let you easy install and have a magnificent and customized cooler choice.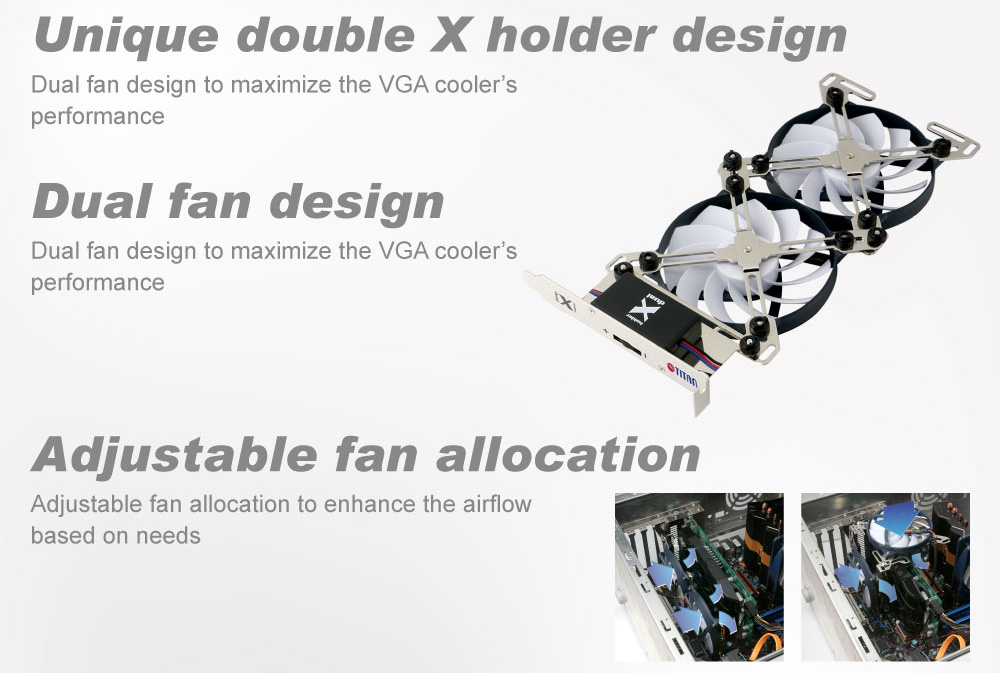 Features
dual cooling fans design to accelerate heatsink efficiency: Maximize airflow to effectively accelerate VGA Cooling performance.
Freely Fan Speed Control- balance heatsink and low-noise: With adjustable speed controller, it can freely balance heat dissipation and low-noise performance.
Freely Fan equipped- for stylish cooler: Unique double X holder design to provide multiple options for fan sizes from 60mm to 90mm.
Freely Fan Allocation: Depends on user's need to adjust cooler allocation and enhance airflow.
Freely installation: Easy installation on PCI slot.
Applications
Bitcoin mining
DIY ventilation
VGA / PSI Ventilation
Specification
Outline Dimension: 265 x 39 x 147 mm
Fan Dimension: 95 x 95 x16 mm
Rated Voltage: 12 VDC
Rated Current: 0.24 A(Max.) (2 Fan)
Power Consumption: 2.88 W
Rated Speed: 1000 ~ 1800 RPM
Airflow: 36.6 ~ 66 CFM
Static Pressure: 0.04 ~ 0.128 Inch H₂O
Noise Level: 15 ~ 27.8 dBA
Connector: 3-PIN
Bearing Type: Z-AXIS
Life Time: 60,000 Hours
Package Volume
1CTN(PCS): 30
N.W.(KGS): 7.9
G.W.(KGS): 11.5
MEAS'T(CUFT): 2.03
Photo Gallery

Related Videos

Related Products

TTC-SC09TZ(A) 9cm, TTC-SC09TZ(B) 12cm, TTC-SC09TZ(C) 14cm

Equipped two TITAN exclusive silent but strong airflow fan and speed controller which can switch...

Details

FAQ
TITAN RV Fan Series
This is TITAN RV product serous, it will help you to understand the differences.
Download
12V DC Adjustable Dual X Houlder with Two Fans for PCI Slot /System Cooler DIY Mounting Ventilation Cooling Fan - PCI Slot fan, ventiladores vga, VGA Cooler | Made in Taiwan Custom RV Fans and PC Cooling Fans Manufacturer | TITAN Technology Limited
Located in Taiwan since 1989, TITAN Technology Limited has been a cooling fans & computer cooler products manufacturer. Their main pc cooling fans, including 12V DC Adjustable Dual X Houlder with Two Fans for PCI Slot /System Cooler DIY Mounting Ventilation Cooling Fan, computer coolers, cooling fans, phone coolers, CPU coolers, DC fans, PC cooling kits, laptop cooling pads and power inverters, which are CE, TUV, and UL safety certified, and the factory has obtained ISO 9001 and ISO 14001 certifications.
Founded in 1989, TITAN is an outstanding leader in thermal field, with a passion and elite team of engineers. Located in Taiwan and established a branch office in Germany. TITAN has great amounts of distributors in versatile area of the global. Our products seen all over the world and earning glorious reputation and trust. We expanded amounts of producing lines to fit various demands as well as built the manufacturing factory in Guang Dong, China, which has 460 employees and monthly producing over 1.2 million units at least basis. With over 27 years of experience, TITAN has produced various types of cooling products, such as PC cooler, cooling fan, and mobile cooling, giving our customers a wide and high value selection of choices. With more than 27 years experience, TITAN focus on manufacturing and developing versatile cooling fan and computer cooler products to provide the best thermal cooling resolution.
TITAN has been offering customers high-quality RV fans and CPU coolers, both with advanced technology and 27 years of experience, TITAN ensures each customer's demands are met.