12V DC Adjustable Dual X Houlder with Two Fans for PCI Slot /System Cooler DIY Mounting Ventilation Cooling Fan
TTC-SC07TZ(RB)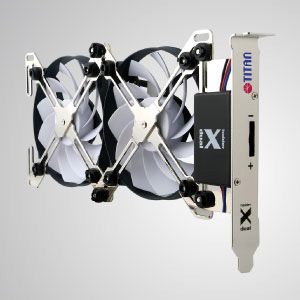 With unique X-shaped dual cooling fans holder design, this VGA cooler features "free style". It can be freely equipped with 4 types of fan (60, 70, 80, 90mm)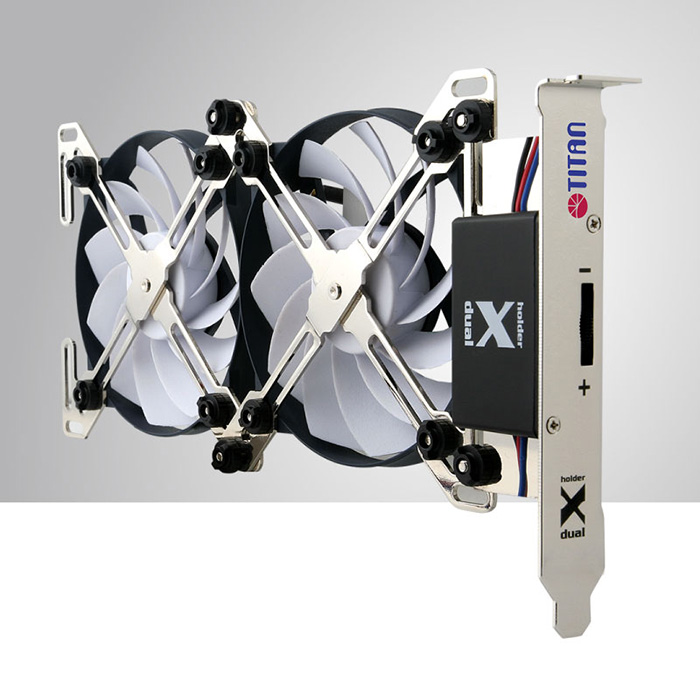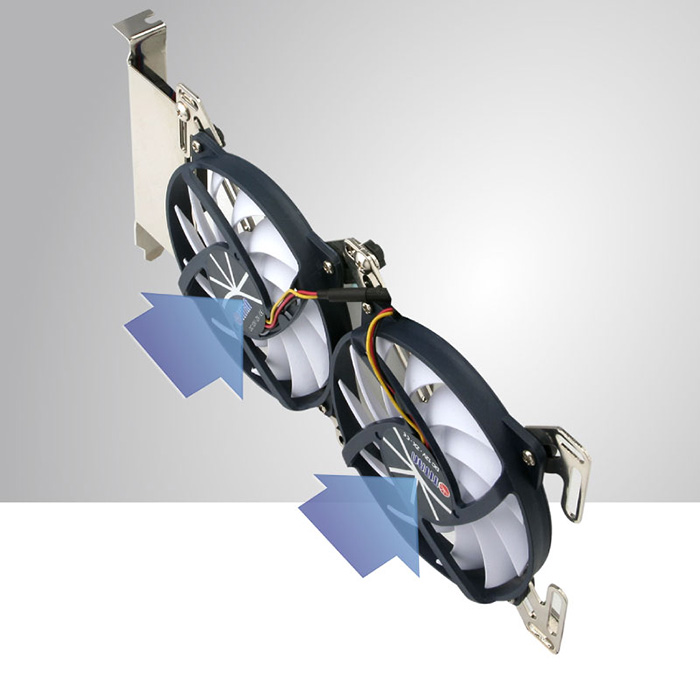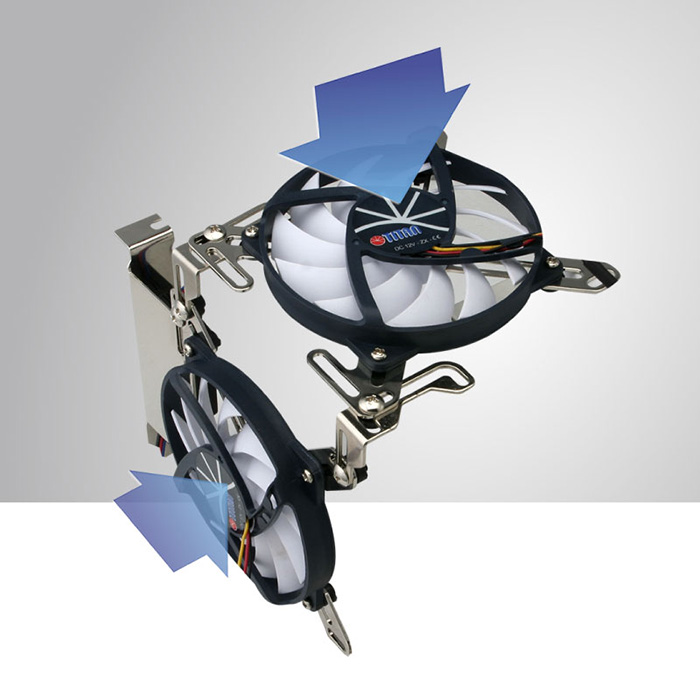 VGA Cooling Helper: TITAN- TTC-SC07TZ(BR)

Customize the best cooler you need!

With unique X-shaped dual cooling fans holder design, this VGA cooler features "free style". It can be freely equipped with 4 types of fan (60, 70, 80, 90mm), freely adjust fan allocation, and freely control fan speed. Let you easy install and have a magnificent and customized cooler choice.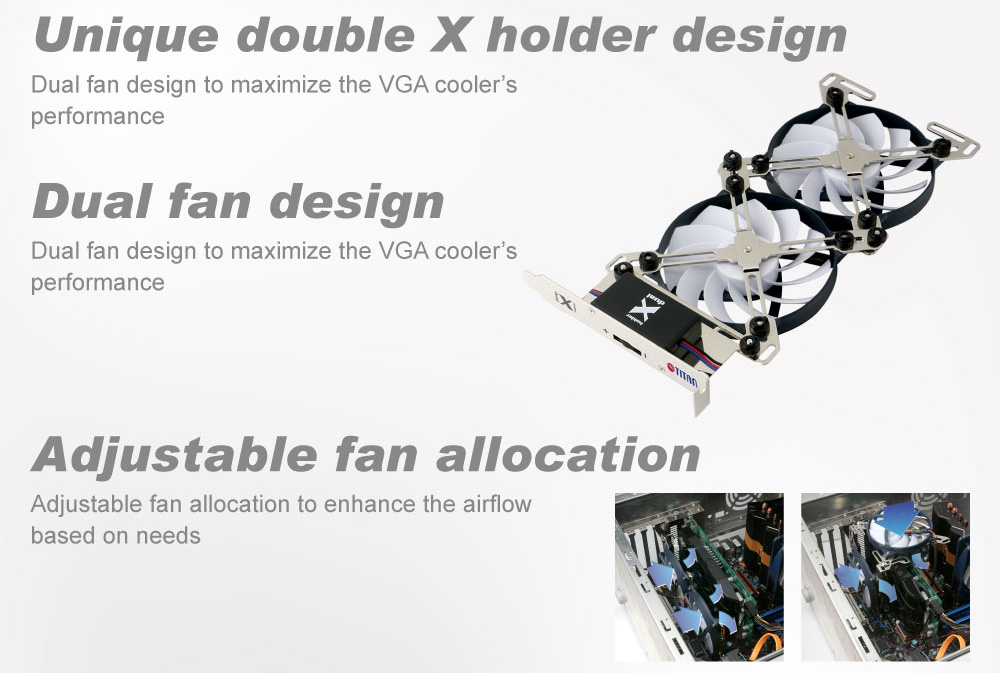 Features
dual cooling fans design to accelerate heatsink efficiency
Maximize airflow to effectively accelerate VGA Cooling performance.
Freely Fan Speed Control- balance heatsink and low-noise
With adjustable speed controller, it can freely balance heat dissipation and low-noise performance.
Freely Fan equipped- for stylish cooler
Unique double X holder design to provide multiple options for fan sizes from 60mm to 90mm.
Freely Fan Allocation
Depends on user's need to adjust cooler allocation and enhance airflow.
Freely installation
Easy installation on PCI slot.
Applications
Bitcoin mining
DIY ventilation
VGA/ PSI Ventilation
Specification
Outline Dimension: 265 x 39 x 147 mm
Fan Dimension: 95 x 95 x16 mm
Rated Voltage: 12 VDC
Rated Current: 0.24 A(Max.) (2 Fan)
Power Consumption: 2.88 W
Rated Speed: 1000 ~ 1800 RPM
Airflow: 36.6 ~ 66 CFM
Static Pressure: 0.04 ~ 0.128 Inch H₂O
Noise Level: 15 ~ 27.8 dBA
Connector: 3-PIN
Bearing Type: Z-AXIS
Life Time: 60,000 Hours
PCI Slot fan, ventiladores vga, VGA Cooler
Package Volume
1CTN(PCS): 30
N.W.(KGS): 7.9
G.W.(KGS): 11.5
MEAS'T(CUFT): 2.03
Photo Gallery

Related Videos

TITAN PCI Cooler Installation

Customer Intorduce about TITAN Dual X Holder Cooling Kit

Operation of TITAN Daul X Holder Cooling Kit

TITAN PCI Dual fan Review

Related Products

TTC-SC09TZ(A) 9cm, TTC-SC09TZ(B) 12cm, TTC-SC09TZ(C) 14cm

---

Equipped two TITAN exclusive silent but strong airflow fan and speed controller which can switch auto and manual, you can both has a whisper operation experience and perfect cooling performance. Perfectly monitor silent operation and airflow performance by auto or manual speed control. With functional rack mounting set, make you easily install on any places near the device you want to cool down and reinforce ventilation immediately.Top sale cooling fan products in Germany!Popular DIY fan on updating ventilation in any places. Great for refrigerator vent fan in motorhome, camping car or ventilation cabinet.

---

---

FAQ
Press Release
2018 Computex Taipei

TITAN will participate in Computex Taipei held on June 5- June 9, 2018. Show our latest cooling fan and related computer cooler.

Read More

USB Tower Cooling Fan for Car & Baby Stroller

This is a USB tower cooling fan for car fan, baby stroller fan, wheelchairs fan or office fan etc.

Read More

USB Ultra-Silent Cooling Fan

Equipped with 140mm professional cooling fan. It is strong airflow, ultra-quiet, and log life time.

Read More