12V DC High Static Pressure Cooling Fan / 40mm
TFD-T4028H12B, TFD-T4028M12B, TFD-T4028L12B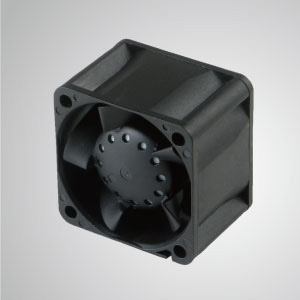 TITAN high static pressure fan has 3 characteristics: High static pressure, high airflow, long letch length.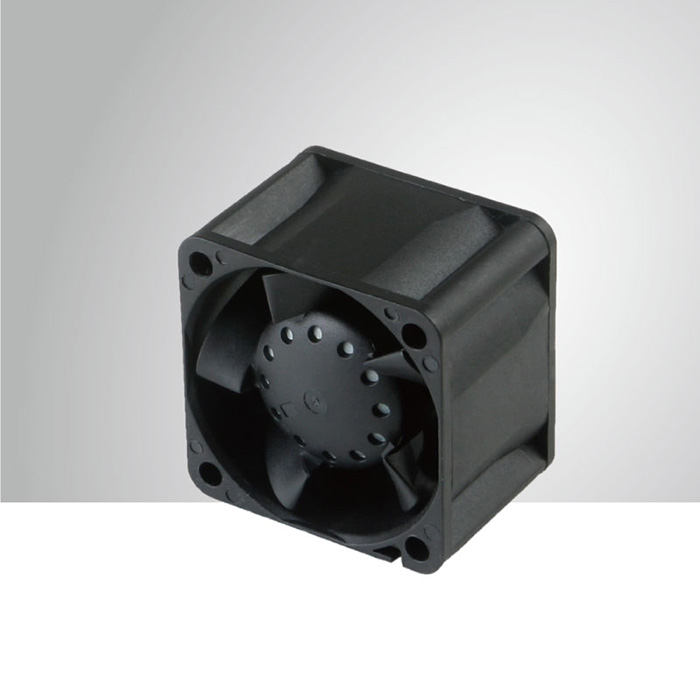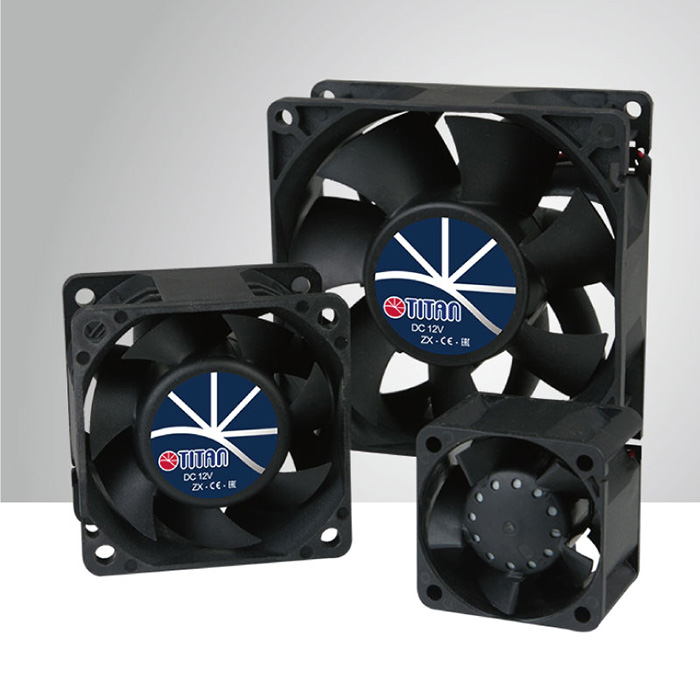 TITAN High Static Pressure Fan Has 3 Characteristics:
- High Static Pressure.
- High Airflow.
- Long Letch Length.

The cooling fan blades specially designed in industry leading technology to centralize airflow and high static pressure and airflow, providing an excellent heat dissipation. What's more, take two ball sleeved bearing system to less vibration and noise, offering a stable and quiet operation. Great for versatile industrial application such as server and communication apparatus.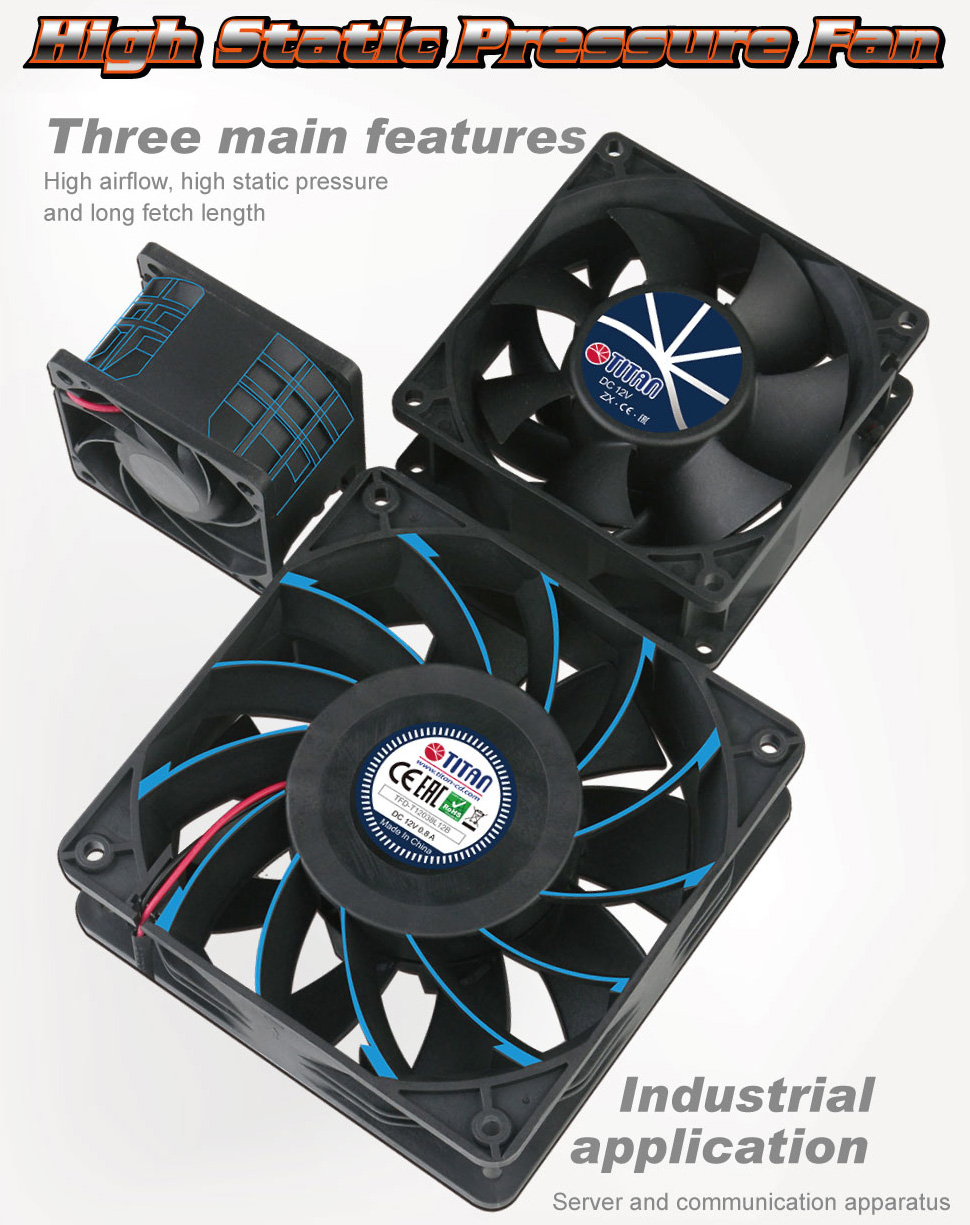 Features
Higher Airflow to Accelerate Heatsink
Specially designed fan blades to effectively centralize airflow and accelerate heat transfer.
Two Ball Sleeved Bearing to Offer A Stable And Quiet Operation
Two ball bearing system for less vibration, noise and turbulence.
Great for Various Industrial Application
Applications
Industrial Equpiment cooling fan
Server & storage cooling ventilation fans
Telecommunication equipment & Teletcon cabinet cooling fan
Factory automation /processing machine cooling fan
Sever rack cabinet ventilation cooling fan
Specification
TFD-T4028H12B
Fan Dimension: 40 x 40 x 28 mm
Rated Voltage: 12V DC
Rated Current: 0.76 A
Power Consumption: 9.12 W
Rated Speed: 15000 RPM
Airflow: 26.7 CFM
Static Pressure: 1.58 Inch H₂O
Noise Level: < 50.8 dBA
Bearing Type: Two Ball
Life Time: 50,000 Hours
TFD-T4028M12B
Fan Dimension: 40 x 40 x 28 mm
Rated Voltage: 12V DC
Rated Current: 0.45 A
Power Consumption: 5.4 W
Rated Speed: 11000 RPM
Airflow: 19.8 CFM
Static Pressure: 1.07 Inch H₂O
Noise Level: < 45.6 dBA
Bearing Type: Two Ball
Life Time: 50,000 Hours
TFD-T4028L12B
Fan Dimension: 40 x 40 x 28 mm
Rated Voltage: 12V DC
Rated Current: 0.2 A
Power Consumption: 2.4 W
Rated Speed: 8000 RPM
Airflow: 15.3 CFM
Static Pressure: 0.61 Inch H₂O
Noise Level: < 35.9 dBA
Bearing Type: Two Ball
Life Time: 50,000 Hours
DC cooling fan, 12V DC cooling fan, High Static Pressure cooling fan
MOQ: 200pcs
Related Products

---

FAQ
Press Release
2018 Computex Taipei

TITAN will participate in Computex Taipei held on June 5- June 9, 2018. Show our latest cooling fan and related computer cooler.

Read More

USB Tower Cooling Fan for Car & Baby Stroller

This is a USB tower cooling fan for car fan, baby stroller fan, wheelchairs fan or office fan etc.

Read More

USB Ultra-Silent Cooling Fan

Equipped with 140mm professional cooling fan. It is strong airflow, ultra-quiet, and log life time.

Read More