12V DC 80mm LED Transparent Cooling Fan with 7-blades
TFD-C8025L12Z/LD1,TFD-C8025L12Z/LD2, TFD-C8025L12Z/LD3, TFD-C8025L12Z/LD4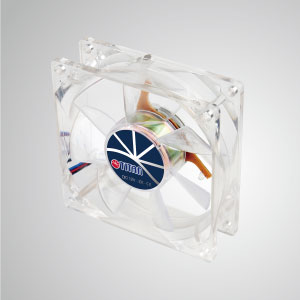 With transparent frame and 92mm silent 9-blades fan, creating a sparkling but low profile cooling performance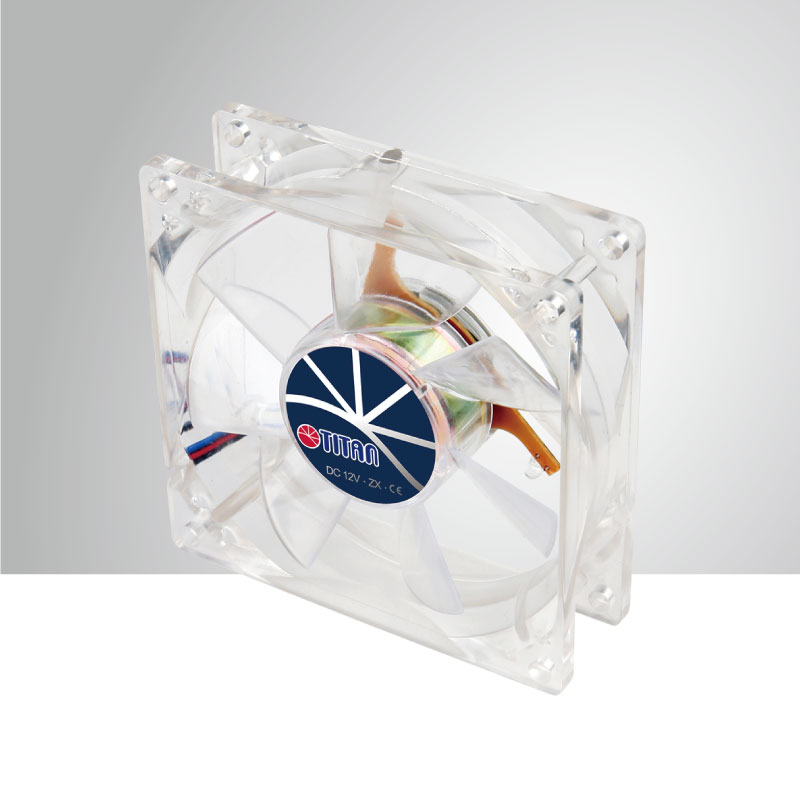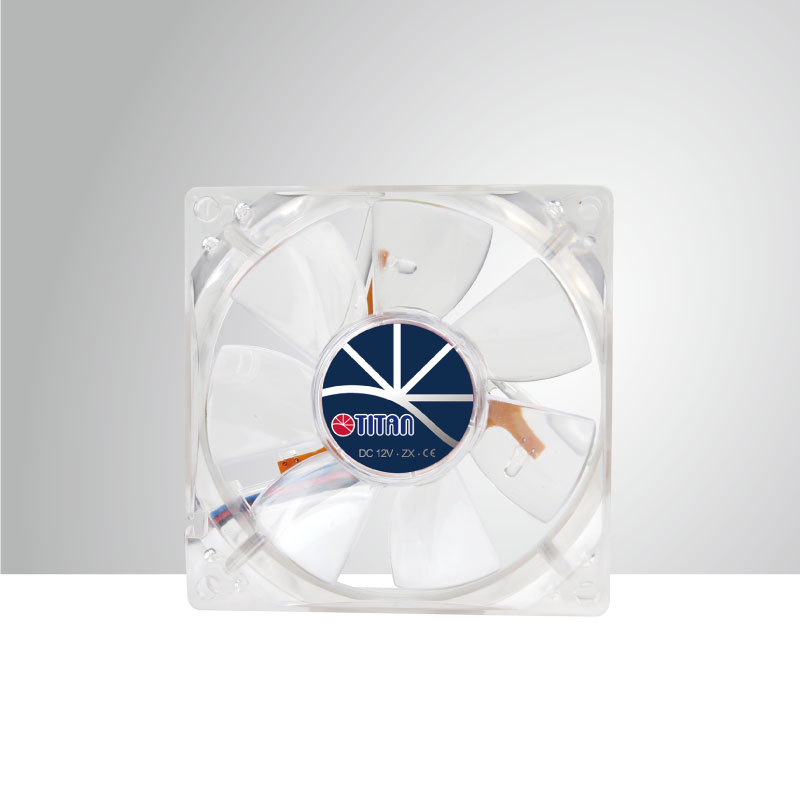 The Brightness in eyes, reflect endless dream
The color you can't touch, the flaming you can't see
TITAN make you belonging

This LED cooling fan, with transparent frame and 92mm silent 9-blades fan, creating a sparkling but low profile cooling performance. Equipped with Titan exclusive Z-AXIS Bearing, the cooling fan offer a stable and long hour operation. Furthermore, it has the function of auto restart and shutdown for preventing form overheating. Provide a save cooling choice.

Design 4 elegant colors, make users create a unique charming style.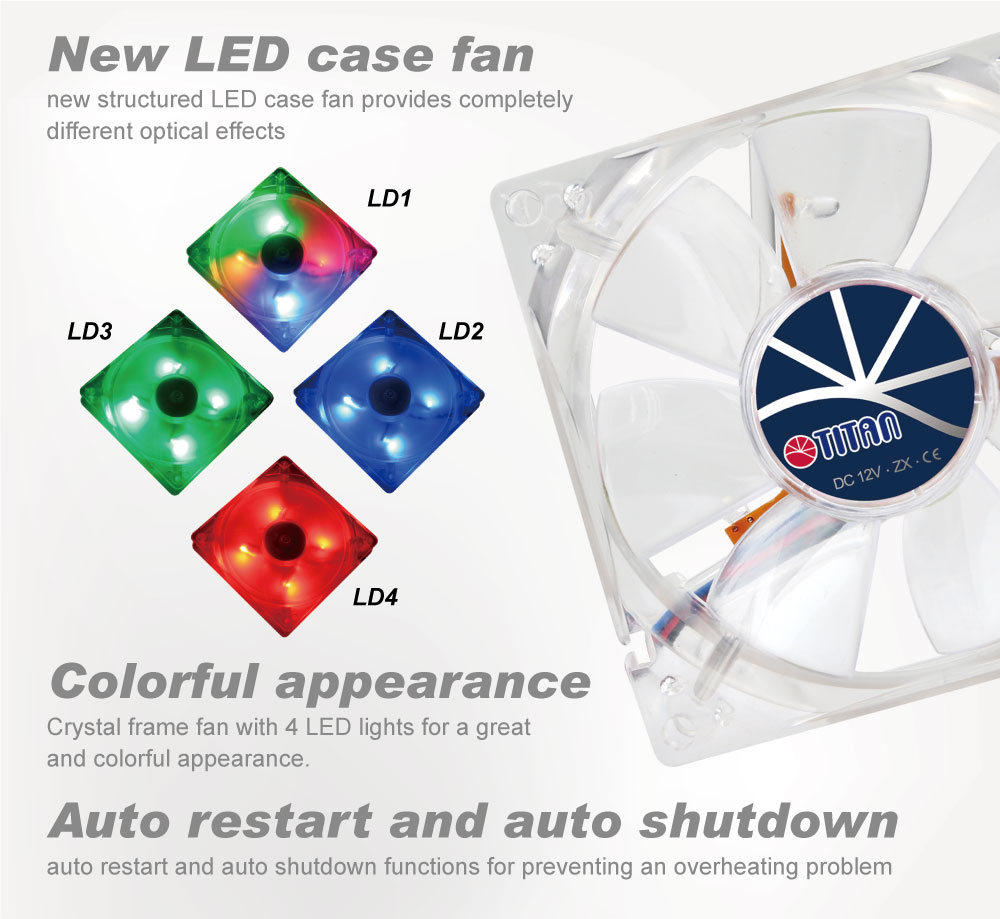 Features
80mm silent fan, high airflow and low noise
Long hour operation, best bearing Take exclusive Z-AXIS Bearing, offer the fan has a stable and durable operation, the longest is 60000 hours.
Specification
TFD-C8025L12Z/LD1 (3 colors:red, blue, green)
TFD-C8025L12Z/LD2 (blue)
TFD-C8025L12Z/LD3 (green)
TFD-C8025L12Z/LD4 (red)
Fan Dimension: 80 x 80 x 25 mm
Rated Voltage: 12V DC
Rated Current: 0.1 A
Power Consumption: 1.2 W
Rated Speed: 2000 ± 10%RPM
Airflow: 24.81 CFM
Static Pressure:0.06 Inch H2O
Noise Level: <23 dBA
Housing: 2510-3P 3Wire, 3Pin Connector
No.of Pole: 4 Pole
Connector: 3-PIN
Bearing Type: Z-AXIS
Life Time: 60,000 Hours
Model illustration
| | TFD-C8025L12Z/LD1 | TFD-C8025L12Z/LD2 | TFD-C8025L12Z/LD3 | TFD-C8025L12Z/LD4 |
| --- | --- | --- | --- | --- |
| Color | RED, BLUE, GREEN, ORANGE | BLUE | GREEN | RED |
DC cooling fan, LED cooling fan, 12V DC cooling fan
Package Volume
1CTN(PCS): 100
N.W.(KGS): 8
G.W.(KGS): 13.4
MEAS'T(CUFT): 2.15
MOQ: 200pcs
Photo Gallery

Related Products

TFD-12025GT12Z/LD1/V2(RB), TFD-12025GT12Z/LD2/V2(RB), TFD-12025GT12Z/LD3/V2(RB), TFD-12025GT12Z/LD4/V2(RB)

---

The Brightness in eyes, reflect endless dream. The color you can't touch, the flaming you can't see. TITAN make you belonging.This LED cooling fan, with transparent frame and 120mm silent 9-blades fan, creating a sparkling but low profile cooling performance. Equipped with Titan exclusive Z-AXIS Bearing, the cooling fan offer a stable and long hour operation. Furthermore, it has the function of auto restart and shutdown for preventing form overheating. Provide a save cooling choice.Design 4 elegant colors, make users create a unique charming style.

---

TFD-14025GT12Z/LD1/V2(RB), TFD-14025GT12Z/LD2/V2(RB), TFD-14025GT12Z/LD3/V2(RB), TFD-14025GT12Z/LD4/V2(RB)

---

The Brightness in eyes, reflect endless dream. The color you can't touch, the flaming you can't see. TITAN make you belonging.This LED cooling fan, with transparent frame and 140mm silent fan, creating a sparkling but low profile cooling performance. Equipped with Titan exclusive Z-AXIS Bearing, the cooling fan offer a stable and long hour operation. Furthermore, it has the function of auto restart and shutdown for preventing form overheating. Provide a save cooling choice.Design 4 elegant colors, make users create a unique charming style.

---

TFD-9225GT12Z/LD1/V2(RB), TFD-9225GT12Z/LD2/V2(RB),TFD-9225GT12Z/LD3/V2(RB), TFD-9225GT12Z/LD4/V2(RB)

---

The Brightness in eyes, reflect endless dream The color you can't touch, the flaming you can't see TITAN make you belongingThis LED cooling fan, with transparent frame and 92mm silent 9-blades fan, creating a sparkling but low profile cooling performance. Equipped with Titan exclusive Z-AXIS Bearing, the cooling fan offer a stable and long hour operation. Furthermore, it has the function of auto restart and shutdown for preventing form overheating. Provide a save cooling choice.Design 4 elegant colors, make users create a unique charming style.

---

---

FAQ
Press Release
2018 Computex Taipei

TITAN will participate in Computex Taipei held on June 5- June 9, 2018. Show our latest cooling fan and related computer cooler.

Read More

USB Tower Cooling Fan for Car & Baby Stroller

This is a USB tower cooling fan for car fan, baby stroller fan, wheelchairs fan or office fan etc.

Read More

USB Ultra-Silent Cooling Fan

Equipped with 140mm professional cooling fan. It is strong airflow, ultra-quiet, and log life time.

Read More