Universal- CPU Air Cooler with 3 DC Heat Pipes and 90mm PWM fan/ TDP 140W
TTC-NK35TZ/PWM/V3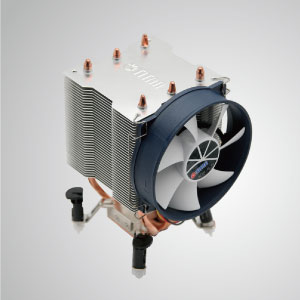 Universal CPU cooling cooler with 3 direct contact heat pipes and 90mm PWM fan. Provide great CPU cooling performance.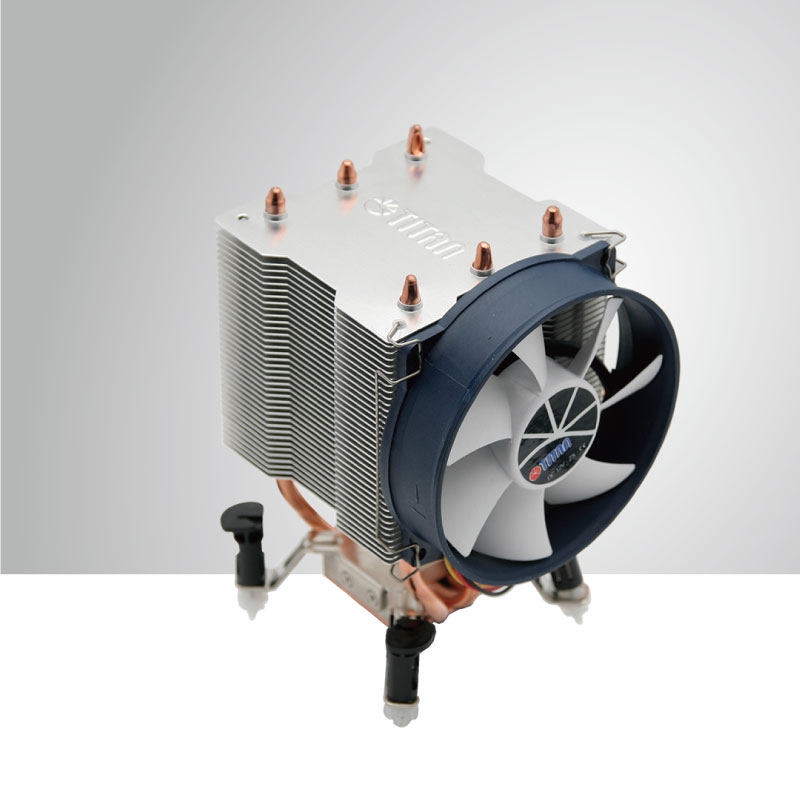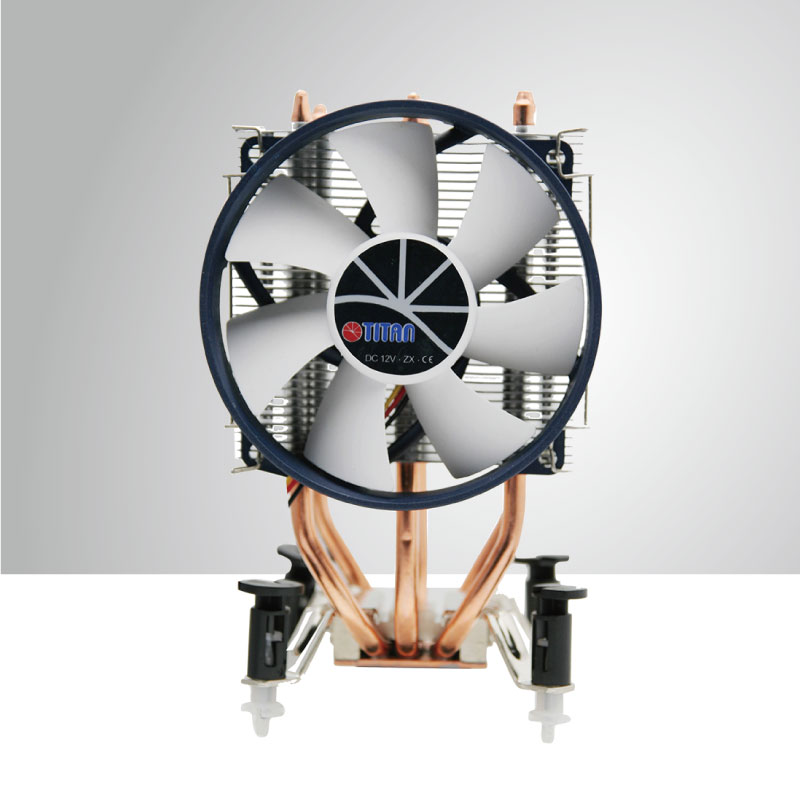 TTC-NK35TZ/RPM/V3 is a kind of universal CPU cooler with pure copper base and aluminum fins, 3 optimized direct heat pipes, and 90mm PWM silent fan. Superior in its performance, it can accelerate heat conductivity and effectively transmit heat to the fins. Besides, tool-free clip design enables an easy installation.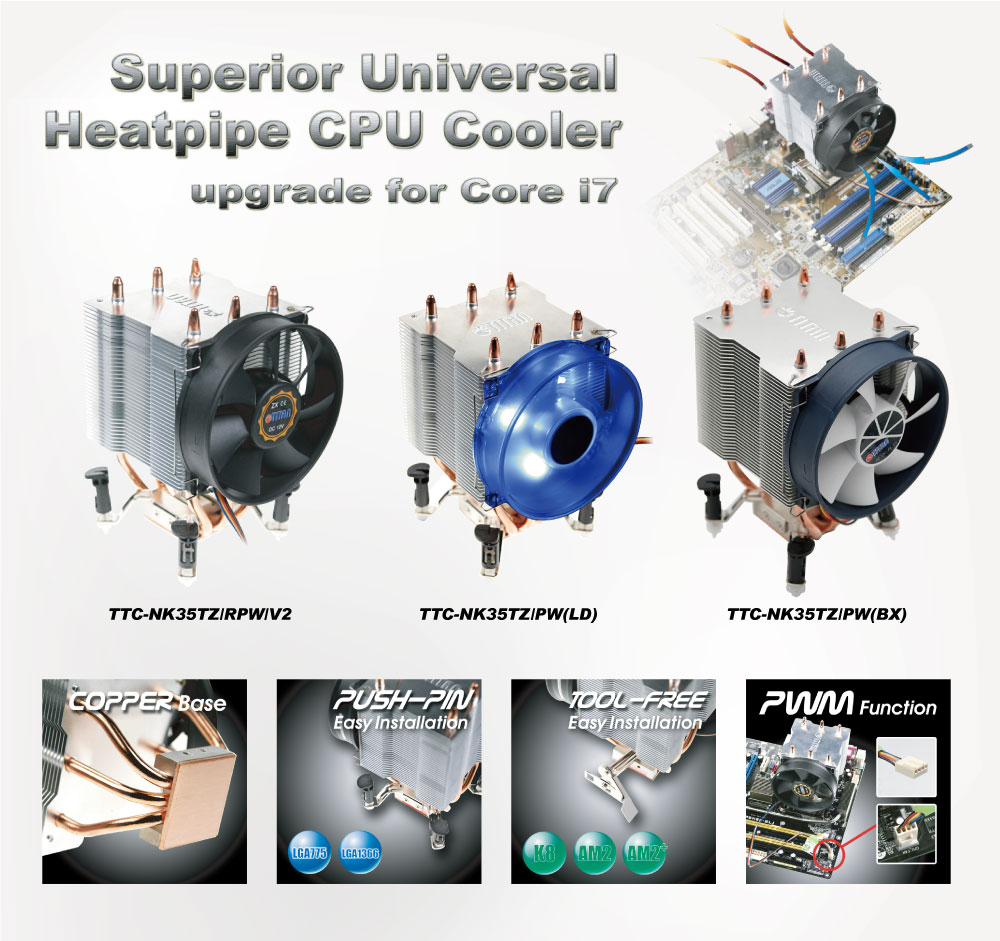 Features
Great heat airflow sink performance
With 3 optimized u-shaped direct contact heat pipes, significantly boost airflow and heat transfer.
Well-balanced cooling and speed performance
With 90mm PWM fan, it creates an excellent balanced customizable speed and cooling performance.
Easy install to save time
Take tool-free clip design to save couples of times.
Specification
Outline Dimension: 95 x 105 x 144 mm
Fan Dimension: 95 x 95 x 25 mm
Rated Voltage: 12V DC
Rated Current: 0.24 A
Power Consumption: 2.88 W
Rated Speed: 900~2800 RPM
Airflow: 17.34 ~ 49.37 CFM
Static Pressure: 0.01 ~ 0.1 Inch H₂O
Noise Level: < 12 ~ <31 dBA
Connector: 4-PIN PWM
Bearing Type: Z-axis Bearing
Life Time: 60,000 Hours
UP TO 140W:
a) For AMD K8/AM2/AM2+/AM3/AM3+/FM1/FM2/FM2+
b) For Intel LGA 775/1150/1151/1155/1156/1366
CPU Cooler
Package Volume
1CTN(PCS): 20
N.W.(KGS): 12.4
G.W.(KGS): 15.8
MEAS'T(CUFT): 2.08
Photo Gallery

Related Videos

Titan Universal Cooler Review

Files Download

---

Related Products

TTC-NK35TZ/PWM/V3

---

TTC-NK35TZ/RPM/V3 is a kind of universal CPU cooler with pure copper base and aluminum fins, 3 optimized direct heat pipes, and 90mm PWM silent fan. Superior in its performance, it can accelerate heat conductivity and effectively transmit heat to the fins. Besides, tool-free clip design enables an easy installation.

---

TTC-NK35TZ/R(KU), TTC-NK35TZ/R/V5(KU), TTC-NK35TZ/RPW(KU),TTC-NK35TZ/RPW/V5(KU)

---

TTC-NK35TZ(KU) Series is a kind of universal CPU cooler with pure copper base and aluminum fins, three 6mm optimized direct heat pipes, and 95mm PWM silent 9-blades fan. Superior in its performance, it can accelerate heat conductivity and effectively transmit heat to the fins. Besides, tool-free clip design enables an easy installation.

---

TTC-NK35TZ/PW(BX), TTC-NK35TZ/PW(LD), TTC-NK35TZ/RPW/V2

---

TTC-NK35TZ series is a kind of universal CPU cooler with pure copper base and aluminum fins, 3 optimized direct heat pipes, and 90mm PWM silent fan. Superior in its performance, it can accelerate heat conductivity and effectively transmit heat to the fins. Besides, tool-free clip design enables an easy installation.

---

---
Press Release
2018 Computex Taipei

TITAN will participate in Computex Taipei held on June 5- June 9, 2018. Show our latest cooling fan and related computer cooler.

Read More

USB Tower Cooling Fan for Car & Baby Stroller

This is a USB tower cooling fan for car fan, baby stroller fan, wheelchairs fan or office fan etc.

Read More

USB Ultra-Silent Cooling Fan

Equipped with 140mm professional cooling fan. It is strong airflow, ultra-quiet, and log life time.

Read More