Universal- CPU Air Cooler with 4 DC Heat Pipes & 120mm Silent PWM Fan / Fenrir / TDP 160W
TTC-NK85TZ/CS(RB) TTC-NK85TZ/V2 TTC-NK85TZ(RB)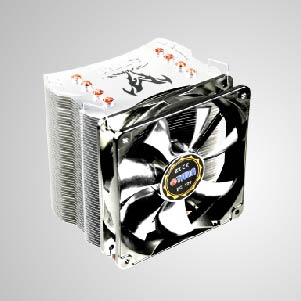 Universal CPU air cooler with 4 direct contact heat pipes and 120mm silent PWM fan. It can accelerate heatsink and well balance between heat transfer and silent performance.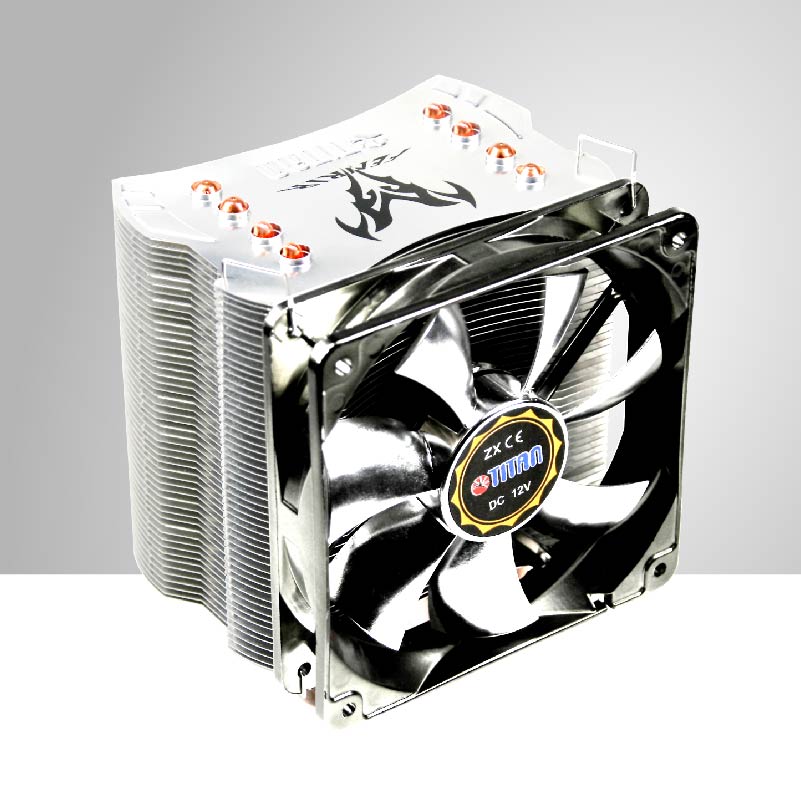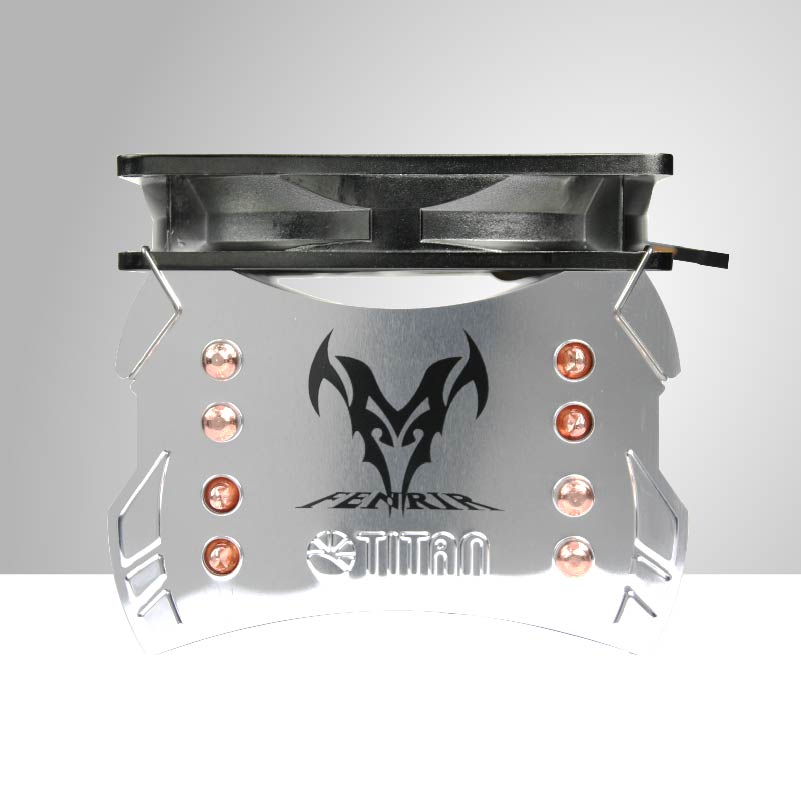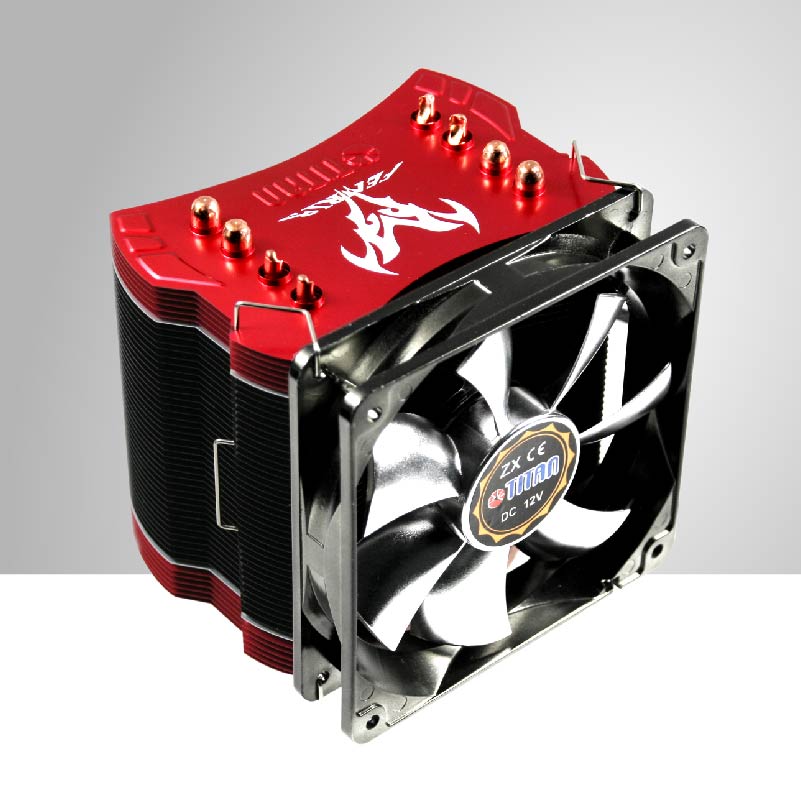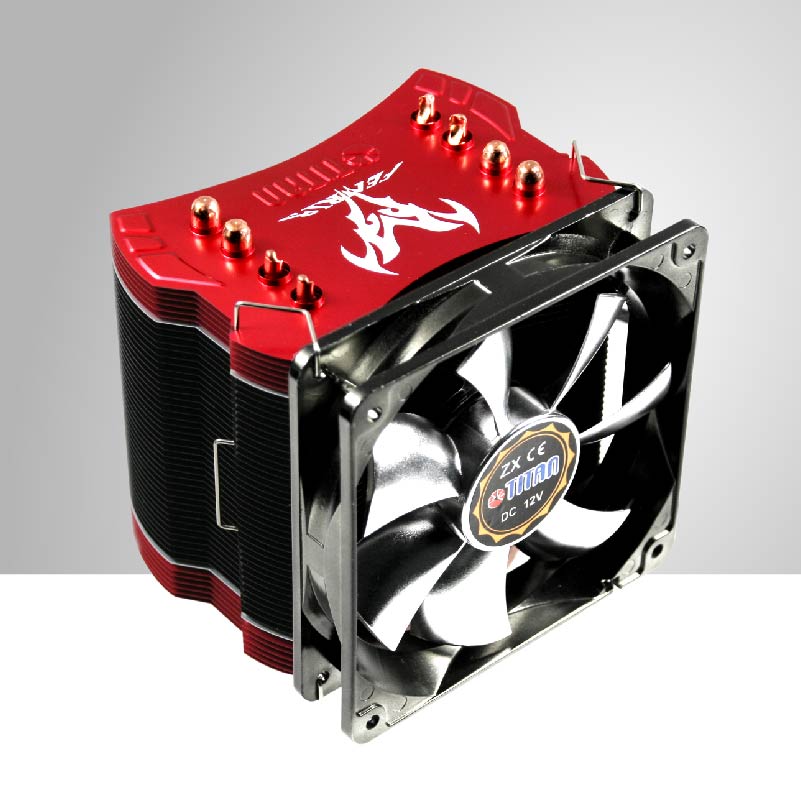 Succeeding to its legend, the TITAN heatpipe CPU cooler, FENRIR, the EVO version carries forward its superior performance of targeting 160W TDP. Compare with the 1st version, the FENRIR EVO, TTC-NK85TZ Series, features a powerful fan with nine kukri-shaped blades for maintaining a lower noise level at 15dBA only. It is highly recommended to the gamers looking for overclocking potential and an improved hushed operation. The all-in-one socket support is compatible with most Intel and AMD systems. The War Machine, FENRIR EVO, utilizes unique plating technology to create dual-color gradation of heatsink allowing you to buil.
Features
High efficient Direct Contact Technology for CPU Cooling
With four 8 mm direct contact heat pipes, significantly transfer the heat sink from CPU operation, supporting TDP up to 160W.
Super silent CPU fan for silent operation
12 cm extreme silent fan, it provides versatile cooling and silent performance. (low speed can reach 15dBA)
Well-balanced cooling and speed performance.
With wide-ranged PWM fan, it creates an excellent balanced customizable speed and cooling performance.
Unique aluminum cooling fins design, create super heat sink performance
High value striking cooling fins design, enhance the amount of air it is capable of circulating.
Easy install to save time
Take tool-free clip design to save couples of times.
Specification
TTC-NK85TZ/CS(RB)
Outline Dimension: 124 x 107 x 156 mm
Fan Dimension: 120 x 120 x 25 mm
Rated Voltage: 12V DC
Rated Current: 0.32 A
Power Consumption: 3.84 W
Rated Speed: 800 ~ 2150 RPM
Airflow: 33.20 ~ 78.41 CFM
Static Pressure: 0.02 ~ 0.11 Inch H₂O
Noise Level: < 17.2 ~ < 39 dBA
Connector: 4-PIN PWM
Bearing Type: Z-AXIS
Life Time: 60,000 Hours
UP TO 160W
For AMD K8/AM2/AM2+/AM3/AM3+/FM1/FM2/FM2+
For Intel LGA 1156/1155/1150/1151/1366/775
TTC-NK85TZ/V2
Outline Dimension: 124 x 107 x 156 mm
Fan Dimension: 120 x 120 x 25 mm
Rated Voltage: 12V DC
Rated Current: 0.32 A
Power Consumption: 3.84 W
Rated Speed: 800~2200 RPM
Airflow: 33.20 ~ 78.41 CFM
Static Pressure: 0.02 ~ 0.11 Inch H₂O
Noise Level: < 17.2 ~ < 39 dBA
Connector: 4-PIN PWM
Bearing Type: Z-AXIS
Life Time: 60,000 Hours
UP TO 160W
For AMD K8/AM2/AM2+/AM3/AM3+/FM1/FM2/FM2+
For Intel LGA 1156/1155/1150/1151/1366/775
TTC-NK85TZ(RB)
Outline Dimension: 124 x 107 x 156 mm
Fan Dimension: 120 x 120 x 25 mm
Rated Voltage: 12V DC
Rated Current: 0.32 A
Power Consumption: 3.84 W
Rated Speed: 800~2200 RPM
Airflow: 33.20 ~ 78.41 CFM
Static Pressure: 0.02 ~ 0.11 Inch H₂O
Noise Level: < 17.2 ~ < 39 dBA
Connector: 4-PIN PWM
Bearing Type: Z-AXIS
Life Time: 60,000 Hours
UP TO 160W
For AMD K8/AM2/AM2+/AM3/AM3+/FM1/FM2/FM2+
For Intel LGA 1156/1155/1150/1151/1366/775
CPU Cooler
Package Volume
TTC-NK85TZ/CS(RB)
1CTN(PCS): 8
N.W.(KGS): 8
G.W.(KGS): 11.3
MEAS'T(CUFT): 2.04
TTC-NK85TZ/V2
1CTN(PCS): 8
N.W.(KGS): 8
G.W.(KGS): 11.3
MEAS'T(CUFT): 2.04
TTC-NK85TZ(RB)
1CTN(PCS): 8
N.W.(KGS): 8
G.W.(KGS): 11.3
MEAS'T(CUFT): 2.04
Photo Gallery

Related Videos

Product Review of TITAN Fenrir CPU Cooler

Files Download

---

Related Products

TTC-NK85TZ/CS2/V3(RB)

---

Succeeding to its legend, the TITAN heatpipe CPU cooler, FENRIR, the EVO version carries forward its superior performance of targeting 160W TDP. Compare with the 1st version, the FENRIR EVO, TTC-NK85TZ/CS2/V3 (RB), features a powerful fan with nine kukri-shaped blades for maintaining a lower noise level at 15dBA only. It is highly recommended to the gamers looking for overclocking potential and an improved hushed operation. The all-in-one socket support is compatible with most Intel and AMD systems. The War Machine, FENRIR EVO, utilizes unique plating technology to create dual-color gradation of heatsink allowing you to buil.

---

TTC-NK85TZ/CS(RB) TTC-NK85TZ/V2 TTC-NK85TZ(RB)

---

Succeeding to its legend, the TITAN heatpipe CPU cooler, FENRIR, the EVO version carries forward its superior performance of targeting 160W TDP. Compare with the 1st version, the FENRIR EVO, TTC-NK85TZ Series, features a powerful fan with nine kukri-shaped blades for maintaining a lower noise level at 15dBA only. It is highly recommended to the gamers looking for overclocking potential and an improved hushed operation. The all-in-one socket support is compatible with most Intel and AMD systems. The War Machine, FENRIR EVO, utilizes unique plating technology to create dual-color gradation of heatsink allowing you to buil.

---

---
Press Release
2018 Computex Taipei

TITAN will participate in Computex Taipei held on June 5- June 9, 2018. Show our latest cooling fan and related computer cooler.

Read More

USB Tower Cooling Fan for Car & Baby Stroller

This is a USB tower cooling fan for car fan, baby stroller fan, wheelchairs fan or office fan etc.

Read More

USB Ultra-Silent Cooling Fan

Equipped with 140mm professional cooling fan. It is strong airflow, ultra-quiet, and log life time.

Read More