How to mount the RV rooftop refrigerator vent fan?
First, you have to get up on the roof of your RV with RV ladder on the back or a regular house ladder. And then, follow the instructions of installation. You could kindly check below the YouTube video of installation introduction.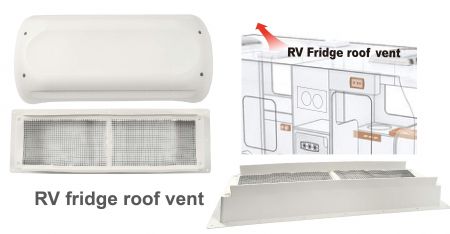 The work of Rooftop RV fridge vent
The cabinet of refrigerator vent used to house the refrigerator acts as a baffle and allows the hot air to escape through the vent installed on the roof. There is a vent cover to keep water, dirt, and debris off of RV's refrigerator vent. The vent cover usually is made of UV-resistant to stand up against sun rays. The replacement vent doesn't have to use the original, you just need to be sure it's functional and allows for the air to escape through. There are various models, styles and colors to choose and easily mount on motorhomes, RV, travel trailers, and 5th wheels. Universal RV roof vents could also be found in the market.
The advantage of installed a RV fan inside the RV rooftop refrigerator vent
The main function of roof vent is to let out hot air generated by RV fridge or motorhome fridge. The space of roof vent base could be mounted a RV fan to boost the airflow. The advantage of mounting the fan on the refrigerator roof vent is to boost the air circulation and cool down the temperature of RV fridge. The RV fan could improve the performance of RV fridge and achieve the goal of power saving with TITAN unique design such as auto temperature detection and timer setting. The common suggestion of installation is mounted the fan with cross grille side outwards to push the air out.
Other FAQ

Products

---

Video




Press Release
2018 Computex Taipei

TITAN will participate in Computex Taipei held on June 5- June 9, 2018. Show our latest cooling fan and related computer cooler.

Read More

USB Tower Cooling Fan for Car & Baby Stroller

This is a USB tower cooling fan for car fan, baby stroller fan, wheelchairs fan or office fan etc.

Read More

USB Ultra-Silent Cooling Fan

Equipped with 140mm professional cooling fan. It is strong airflow, ultra-quiet, and log life time.

Read More