Universal- Low Profile Design CPU Air Cooler with 4 DC Heat Pipes and 80mm PWM Fan / 46 mm Height/ TDP 130W
TTC-NC75TZ/PW(RB)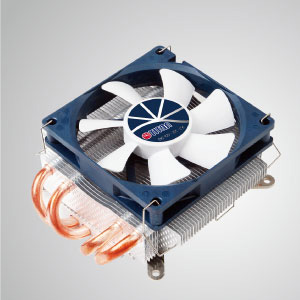 Universal CPU cooling cooler with four 6mm direct contact heat pipes and 80mm PWM fan. Extreme low profile slim for various HTPC cases and computer cases.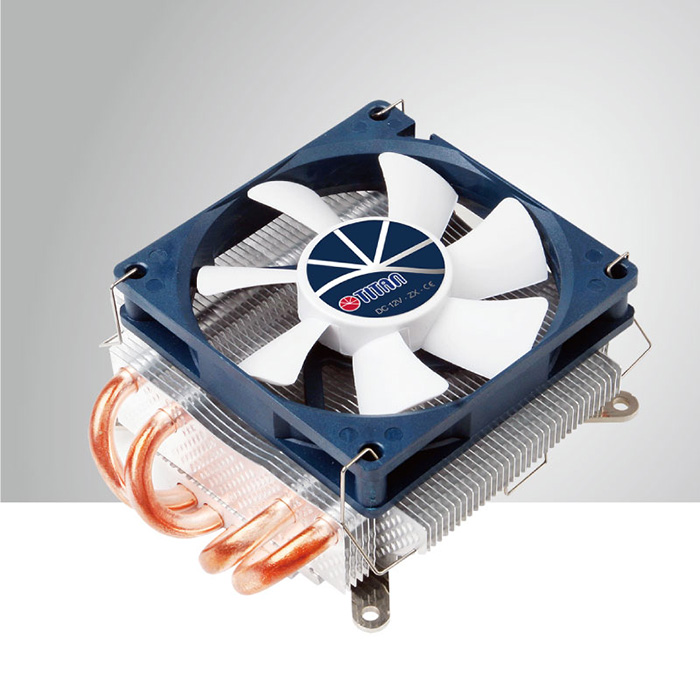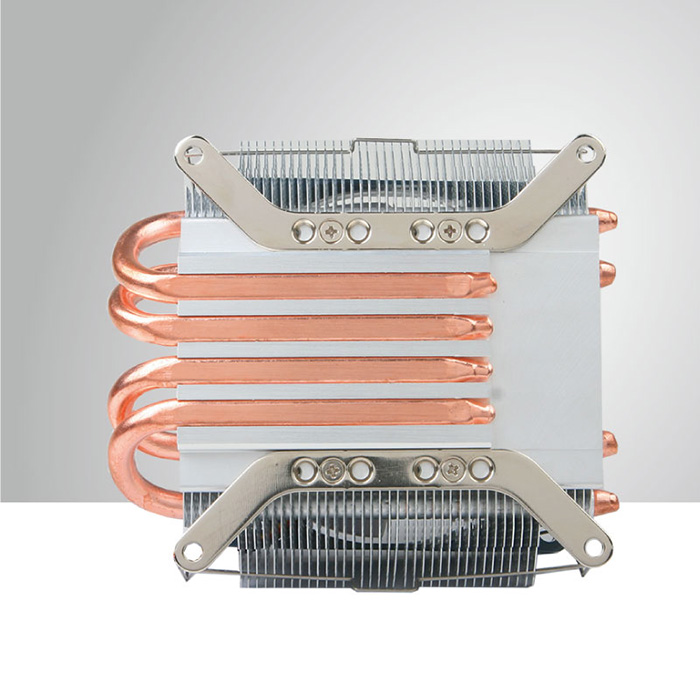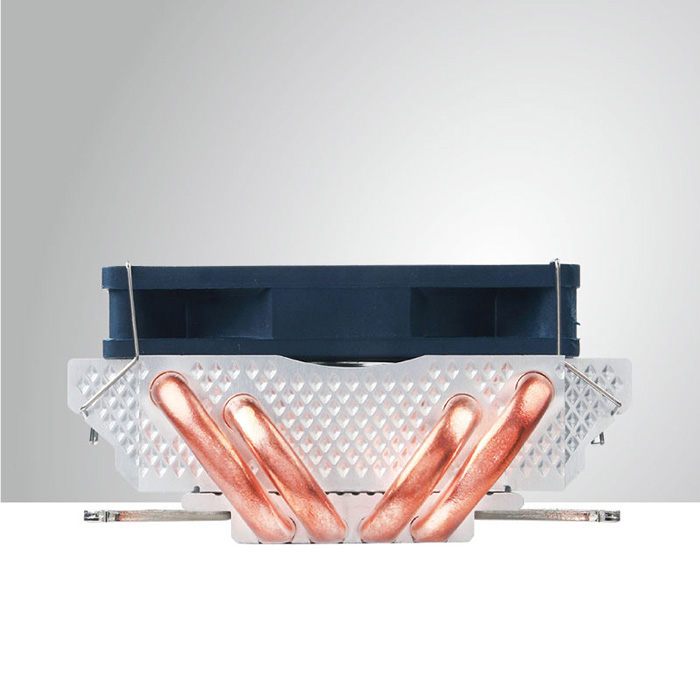 TTC-NC75TZ/PW (RB) CPU cooler is 46mm height and suitable for various HTPC case and low profile computers. Features four 6mm direct contact heat pipes, it is able to accelerate heatsink and support TDP up to 130W. Moreover, this CPU cooler is equipped with intelligent PWM fan which can automatic control speed, well balance heat dissipation and reduce noise.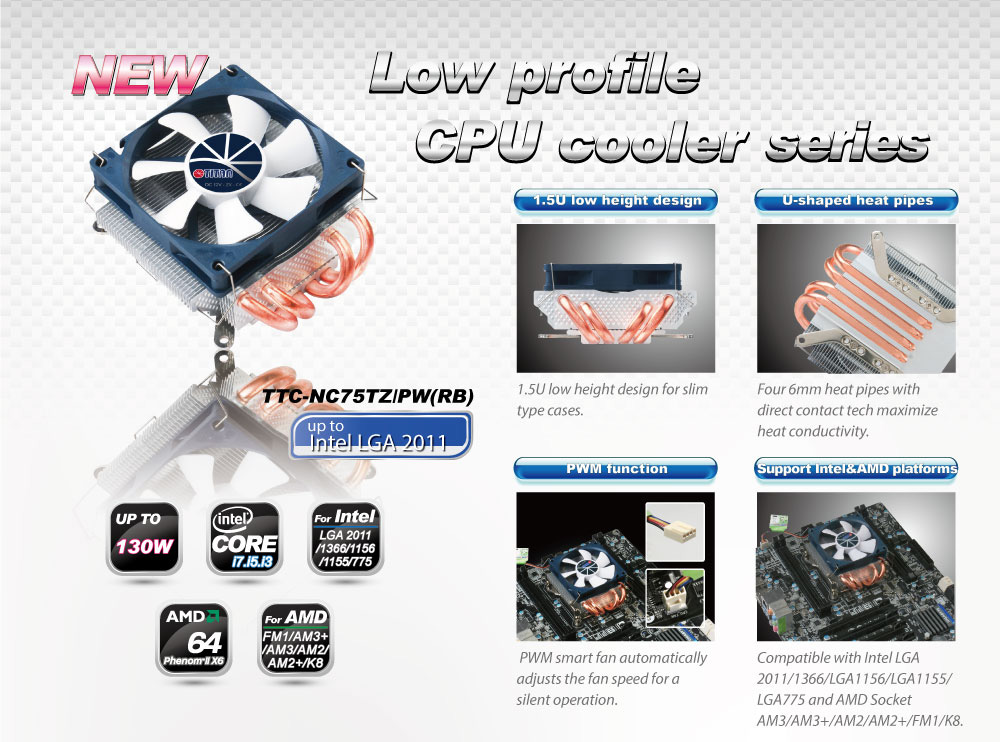 Features
Extreme Slim for various HTPC case.
High efficient Direct Contact Technology for CPU Cooling.
With four 6 mm u-shaped direct contac theat pipes, significantly dissipate heat from CPU operation, supporting TDP up to 130W. Dramatically increasing CPU cooling efficiency.
Specification
Outline Dimension: 106 x 95 x 46 mm
Fan Dimension: 80 x 80 x 15 mm
Rated Voltage: 12V DC
Rated Current: 0.45 A
Power Consumption: 5.4W
Rated Speed: 1500 ~ 3500 RPM
Airflow: 14.84 ~ 37.1 CFM
Static Pressure: 0.03 ~ 0.15 Inch H₂O
Noise Level: <13.8 ~ <35dBA
Connector: 4-PIN PWM
Bearing Type: Z-AXIS
Life Time: 60,000 Hours
UP to 130W:
a) For AMD K8/AM2/AM2+/AM3/AM3+/FM1/FM2/FM2+.
b) For Intel LGA 775/1150/1151/1155/1156/1366/2011/2066/1200
CPU Cooler, Cooler
MOQ: 200pcs
Photo Gallery

Files Download

---

Related Products

TTC-NC25TZ/PW/V2(RB), TTC-NC25TZ/PW(RB), TTC-NC25/HS

---

TTC-NC25 Series is a Low Profile Design CPU cooling cooler with both economic and high heat sink efficiency.This CPU cooler itself is a 46mm low height with four 6mm direct contact heat pipes for maximum heat conduction and supporting TDP up to 130W. It is suitable for HTCP and low profile computer and compatible with most Intel and AMD platform. In addition, equipped with super silent PWM fan, it is able to balance speed and silent operation.

---

TTC-NC35TZ/PW/V2(RB), TTC-NC35TZ/PW(RB)

---

This is a Low Profile Design CPU cooling cooler with both economic and high heat sink efficiency.This CPU cooler is a 46mm low height with two 6mm direct contact heat pipes for maximum heat conduction and supporting TDP up to 115W. It is suitable for HTCP and low profile computer and compatible with most Intel and AMD platform. In addition, equipped with super silent PWM fan, it is able to balance speed and silent operation. This CPU cooler is a useful and economic cooling choice.

---

TTC-NC75TZ/PW(RB)

---

TTC-NC75TZ/PW (RB) CPU cooler is 46mm height and suitable for various HTPC case and low profile computers. Features four 6mm direct contact heat pipes, it is able to accelerate heatsink and support TDP up to 130W. Moreover, this CPU cooler is equipped with intelligent PWM fan which can automatic control speed, well balance heat dissipation and reduce noise.

---

---
Press Release
2018 Computex Taipei

TITAN will participate in Computex Taipei held on June 5- June 9, 2018. Show our latest cooling fan and related computer cooler.

Read More

USB Tower Cooling Fan for Car & Baby Stroller

This is a USB tower cooling fan for car fan, baby stroller fan, wheelchairs fan or office fan etc.

Read More

USB Ultra-Silent Cooling Fan

Equipped with 140mm professional cooling fan. It is strong airflow, ultra-quiet, and log life time.

Read More