Taichi- 2-in-1 Car USB Power Charger and Car Battery Tester
TP-15TC, TP-25TC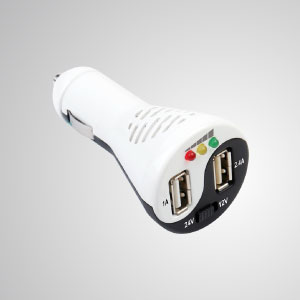 TITAN 4-in-1 Battery Charger for all types of Vechicles, motorcycles, automobiles, van, truck and yacht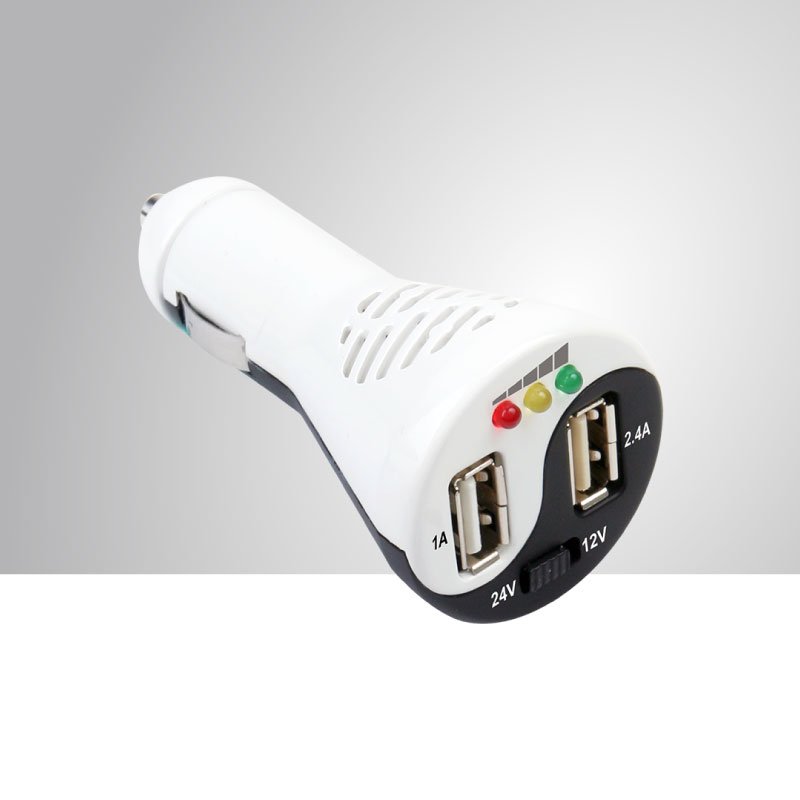 The new 4 in 1 charger launched by Titan aims to provide a user-friendly power charging device for your everyday functions. This charger with 12V/24V/ is suitable for all types of vehicles including motorcycles, automobiles, van, truck and yacht. The LED light indicates the current voltage by flashing different color schemes.
This charger has multi-protection features such as over-temperature, over voltage and reverse connection protection which increase the reliability when the charger is in action. Titan's new 4 in 1 charger is clearly the best and most suitable choice for your everyday power needs.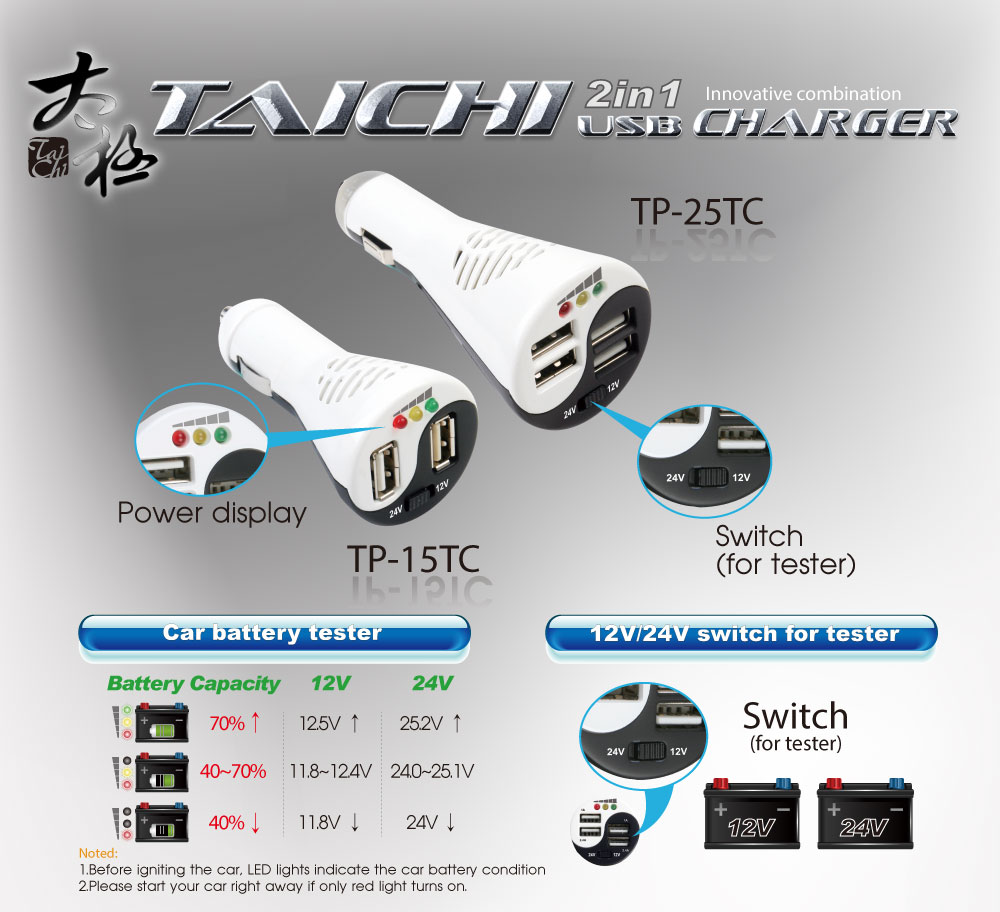 Features
Soft-start feature with 3 protective designs
Limitation of maximum current restriction
Minimum output of ripple current
Minimum stand-by current
Cooling fan with auto speed-control
Charging voltage compensation feature included
Specification
Input Voltage: 12V/24V DC
Output Voltage: 5V
Output Current: 2ports 3A(MAX)/ 4ports 5A(MAX)
Operating Temperature: 0~40 degree
Storage Temperature: -30~70 degree
Short circuit protection: YES
Overload protection: YES
USB ports:
TP-15TC USB x 2
TP-25TC USB x 4
Fuse:
TP-15TC 2A
TP-25TC 3A
LED LED*3(green/yellow/red)
Package Volume
TP-15TC
1CTN(PCS): 100
N.W.(KGS): 5
G.W.(KGS): 8.6
MEAS'T(CUFT): 2.4
TP-25TC
1CTN(PCS): 100
N.W.(KGS): 3
G.W.(KGS): 6.6
MEAS'T(CUFT): 2.2
Notice
** This USB charger is not compatible with Samsung Tab series.
** Condition on testing car battery
Adjust tester switch depending on car output voltage. General speaking, 12V for normal cars and 24V for trucks etc. Then plug in cigarette adapter position with Taichi 2in1 USB charger.
Before igniting the car, LED lights indicate car battery condition (After igniting the car, generator voltage showing on LED without indication range)
red/yellow/green - battery voltage > 12.5V (25.2V), means good condition
red/yellow - battery voltage from 11.8V ~ 12.5V(24V~25.1V), means normal condition
red - battery voltage < 11.8V (24V), means poor condition, please start your car right away. If only red light appears often, that means car battery is almost dead.
【Quick Reference for Car Battery Capacity 】
| Capacity | 12V car battery | LED Light |
| --- | --- | --- |
| 100 % | >13.0V | |
| 90 % | 12.8V~13.0V | |
| 80 % | 12.6V~12.8V | |
| 70 % | 12.4V~12.6V | |
| 60 % | 2.2V~12.4V | |
| 50 % | 12.0V~12.2V | |
| 40 % | 11.8V~12.0V | |
| < 40% | <11.8V | |
【Important knowledge for monitoring voltage】

Normal car battery voltage is over 12V, and operating voltage 14V±0.5V appears after starting the generator; If voltage is under 12V when you turn the power on, it should be the problem of weak car battery, electric leakage on circuit or long term without igniting the car.

11V or lower voltage should not appear at the moment igniting the car. If voltage is under 11V, we need to start the generator to charge it or change a new one depending how long we bought the battery (except long term without usage)
Photo Gallery

Related Videos

TITAN 2-in-1 USB Car Power Charger

TITAN Car Car Battery Charger Tester

Related Products

HW-1248C1

---

The new 4 in 1 charger launched by Titan aims to provide a user-friendly power charging device for your everyday functions. This charger with 12V/24V/36V/48V is suitable for all types of vehicles including motorcycles, automobiles, van, truck and yacht. The LED light indicates the current voltage by flashing different color schemes. This charger has multi-protection features such as over-temperature, over voltage and reverse connection protection which increase the reliability when the charger is in action. Titan's new 4 in 1 charger is clearly the best and most suitable choice for your everyday power needs.

---

TP-15TC, TP-25TC

---

The new 4 in 1 charger launched by Titan aims to provide a user-friendly power charging device for your everyday functions. This charger with 12V/24V/ is suitable for all types of vehicles including motorcycles, automobiles, van, truck and yacht. The LED light indicates the current voltage by flashing different color schemes. This charger has multi-protection features such as over-temperature, over voltage and reverse connection protection which increase the reliability when the charger is in action. Titan's new 4 in 1 charger is clearly the best and most suitable choice for your everyday power needs.

---

---
Press Release
2018 Computex Taipei

TITAN will participate in Computex Taipei held on June 5- June 9, 2018. Show our latest cooling fan and related computer cooler.

Read More

USB Tower Cooling Fan for Car & Baby Stroller

This is a USB tower cooling fan for car fan, baby stroller fan, wheelchairs fan or office fan etc.

Read More

USB Ultra-Silent Cooling Fan

Equipped with 140mm professional cooling fan. It is strong airflow, ultra-quiet, and log life time.

Read More