Quotation Flow for RV fan series
Customize your unique ventilation fans in your RV, Motorhome, Caravan
With over 30 years' experience of fan design and manufacture, we could custom the RV fan quantity sets, speed controller, RV fan volume, air flow, and noise level.
Customize your RV fan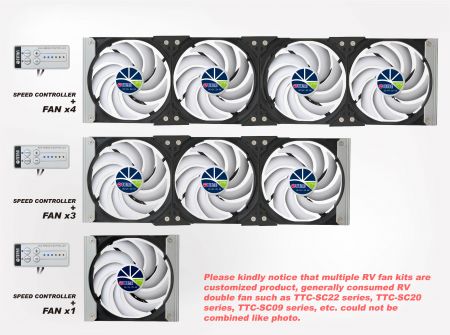 Customize RV rack fan sets
Depend on your RV fan design in your RV or Motorhome, the fan could be combined with single rack fan, double rack fan, triple rack fan, and so on. The whole fan size range is combinable.
Customize speed controller function
We could customize a speed controller with your RV fan, and there could be equipped with various function such as customized speed control levels, timer setting, automatically temperature detection control, humanity detection control, RV lighting, and so on. We have a great technique team to support all the function you want to customize and fit your needs.
Auto temperature detect control
TITAN could design the fan MCU and the controller which could be controlled by temperature to adjust the fan speed automatically. Moreover, it could be on the saving mode of auto-stopping when the temperature lower than unique setting temperature.
Customize Controller type
You could be equipped with the controller to you RV fan. We could support you with separate speed controller or controller embedded with the fan.

Customize fan specification
We could customize any your RV fan specification such as voltage, volume, air flow, static pressure, and fan speed. You can check the detail specification information of DC cooling fan product page. Choose the fan size you want. Whatever your rv fan wants to be great volume, or low noise, all we could customize your own RV ventilation fan for sure.
Quotation flow

Inquiry sent
Please check above RV fan custom items and tell us which you want to be equipped with (such as the quantity of fan, controller type, controller function). If you know the range of your fan speed, fan volume, etc., that would be great. If you are not familiar with the specification, you can describe the detail information as detail as possible. Our specialist would assist you.
Instant reply
We would first reply you within 24 hours in our working days. If there was not in the working days, it may need to wait for few days until the working days.
Detail discussion
Our sales would contact you according to your need and discuss the detail with you including MOQs. Please kindly noticed if your product needs to have any safety certifications in your target marketing such as CE certification, you need to tell us at the beginning.
Quote
Define your needs after discussing, we would offer you a quotation including MOQ, payment terms, etc.
Specification confirm
In this process, our sale and engineer will communicate and check product details such as specification with you. After mutual confirming, we will provide you a product quotation.
Sample production
After confirming all details especially specification and price, we will arrange sample production for you. Sample (1-2 pcs) is for free but excluding shipping fee. And a few of products may be charged sample fee. Please noticed that the sample fee would be deducted the amount from formal order after you place the order.
Sample delivery
Sample production is about 7 days. If there's any particular manufacturing, we would inform our client.
Related Products

TTC-SC22, TTC-SC22(B)

---

Equipped with two TITAN exclusive 9-blades silent fan and IP55 waterproof & dustproof fan and speed controller, you can switch auto temperature control or 6 levels manual control to both have a whisper operation experience and perfect cooling performance.This mounting rack fan is perfect for grille fan & vent fan to update ventilation. It can be applied to external or internal refrigerator vent fan in motorhome, RV, camper van, caravan, travel trailer, travel truck, or cabinet ventilation grille or yachts and so on. Solve thermal heating problems of various electronic applications in camping, outdoor, and other cooling requires for all customers.With hook rack mounting design, the double mounting fan can easily install on vent fan or ventilation grille. Let the application cool down and reinforce ventilation immediately.

---

TTC-SC21/V3

---

The multi-purpose roof window double fan is equipped with TITAN exclusive 9-blades silent fan and the function of reversible airflow to ventilate and cool various spaces such as motorhomes, travel trucks, houses, drivers cabs and so on.Control panel with 6 speed levels and 7 timer settings. It is easy to switch the airflow direction for drawing fresh air in or extracting stale air out and select the comfort speed as well as turn off time. It allows quickly heat transfer and fresh air circulation. By 12V DC current and 280 CMF airflow amount, this roof window fan can increase over 80% flow efficiency of room, toilet or kitchen in your motorhome.Moreover, roof window can be closed or opened without dismounting the double fan. The thickness of fan is only 34mm. It is suitable for roof window insect screens without dismounting it.

---

---
Press Release
2018 Computex Taipei

TITAN will participate in Computex Taipei held on June 5- June 9, 2018. Show our latest cooling fan and related computer cooler.

Read More

USB Tower Cooling Fan for Car & Baby Stroller

This is a USB tower cooling fan for car fan, baby stroller fan, wheelchairs fan or office fan etc.

Read More

USB Ultra-Silent Cooling Fan

Equipped with 140mm professional cooling fan. It is strong airflow, ultra-quiet, and log life time.

Read More