12V DC dubbele omkeerbare dakraamventilatie RV-ventilator
TTC-SC21
RV fan, RV Roof fan, Motorhome Window Roof fan, Roof Mounted fan, Side window fan
Multi-Purpose roof window double fan is equipped with TITAN exclusive 9-blades silent fan and the function of reversible airflow to ventilate and cool various spaces such as motorhome, travel truck, houses, cabinets, and so on.
With smart panel of fan and 6-levels speed setting, it is easy to switch flow direction, draw fresh air in or exhaust out, and select the comfort speed as your will. Allow you to quickly heat transfer and ventilate circulation. By 12V DC current and 280CMF airflow amount, this roof window fan can increase over 80% flow efficiency of room, toilet, kitchen in your motorhome.
 
Moreover, roof window can be closed or opened without dismounting the double fan. The thickness of fan is only 34mm, it can fit for roof window filters without dismounting.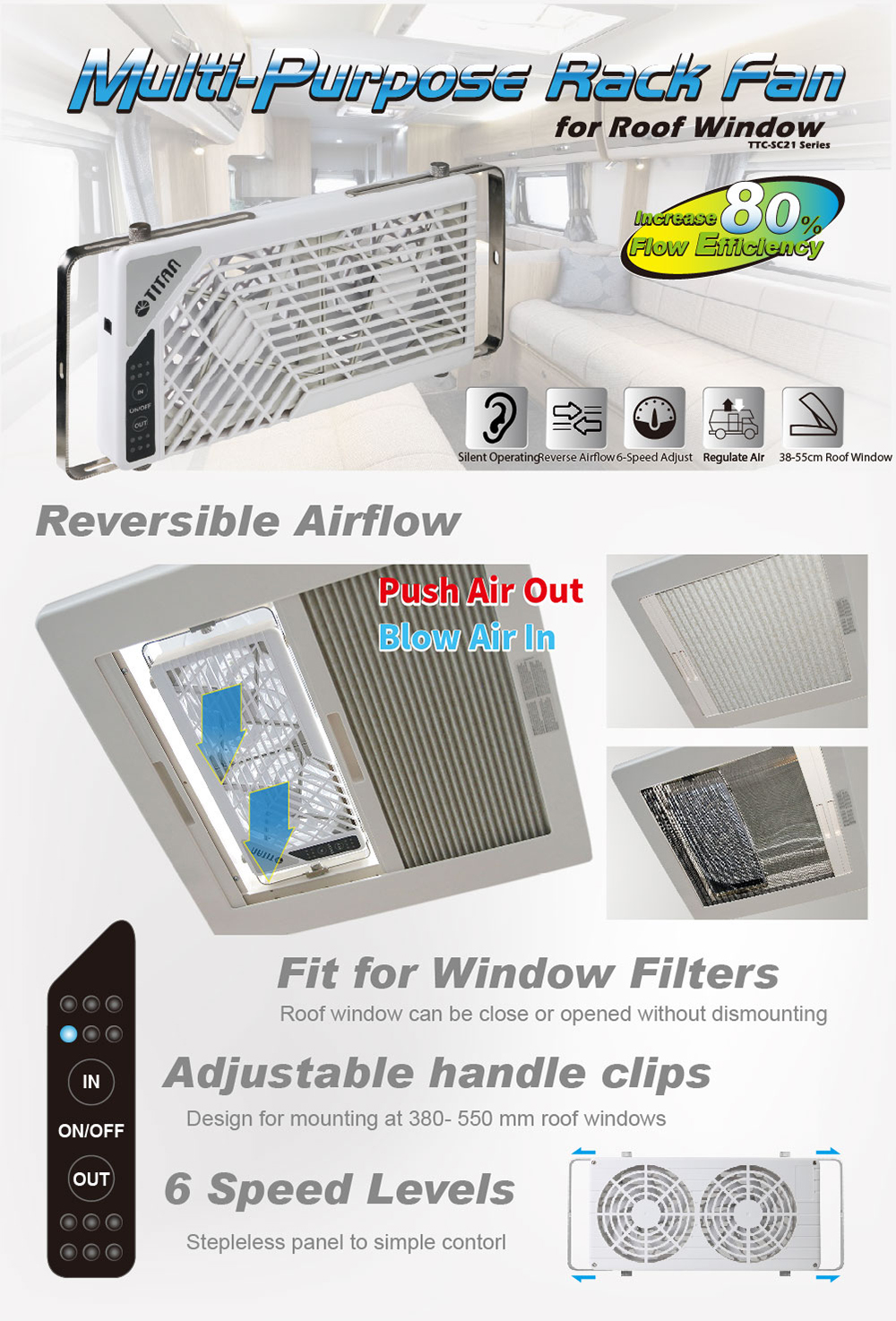 Features
UNIVERSALLY FIT ALL BRAND OF 380-550MM ROOF WINDOW
Ideal for all 380 -550mm roof vent window for motorhome, camper van, travel trailer, or truck
FIT FOR WINDOW FILTERS
Roof window can be closed or opened without dismounting the double fan
REVERSIBLE AIRFLOW DIRECTION
Manually reverse airflow direction design, allowing push hot air out from inside and draw in fresh air from outside.
QUICKLY HEAT TRANSFER AND REGULATE CIRCULATION
Equipped ith strong airflow of 280 CFM by two 140mm fans, it can quickly push hot air out to regulate and enhance ventilation inside
6-LEVELS OF SPEED CONTROL
With the smart panel, easily monitor and balance cooling performance and silent operation.
SILENT OPERATION - TITAN 9-BLADES
Take TITAN professional 9-blades kukri silent fan, this multi-purpose fan or fridge vent fan provides you the quietest operation experience without being disturbed
Applications
Motorhome / RV roof top window ventilation fan
Motorhome / RV bathroom window ventilation fan
DIY ventilation fan
Cabinet ventilation fan
Bus coversion DIY ventilation cooling fan
Skoolie ventilation cooling fan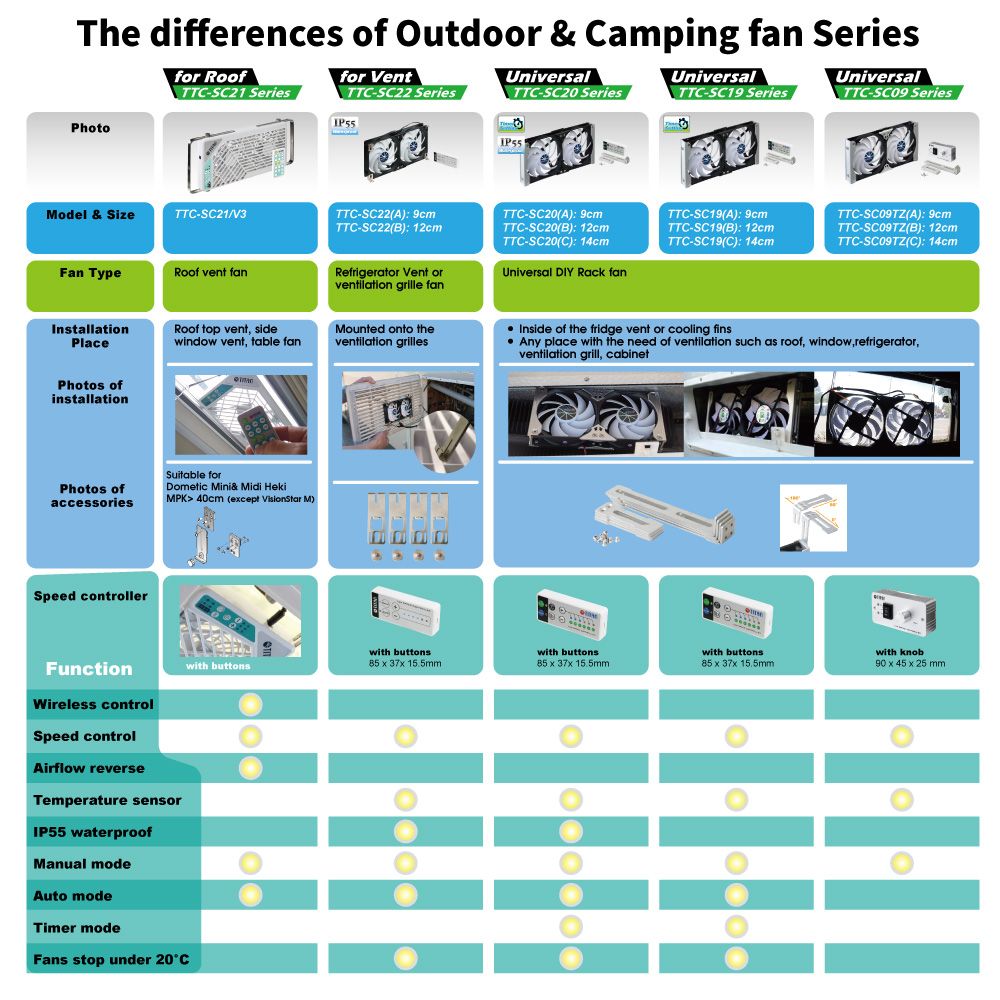 Specification
Outline Dimension: 320 x156 x34mm
Fan Dimension: 140 x140 x25mm*2
Rated Voltage: 12V DC
Rated Current: 1A
Power Consumption: 12W
Rated Speed: 600-~2200 RPM
Airflow: 76.4~280 CFM
Static Pressure: 0.05~1.0 Inch H₂O
Noise Level: 7~32 dBA
Bearing Type: Z-AXIS
Life Time: 60,000 Hours
Cable length: 6M
Lead Wire: UL2468# 26AWG
Package Volume
1CTN(PCS): 10
N.W.(KGS): 11.8
G.W.(KGS): 15.2
MEAS'T(CUFT):1.9
Photo Gallery

Related Videos

TITAN RV/Motorhome fan series introduce (TTC-SC21 /TTC-SC09/ TTC-SC22)

Installation Instruction of RV/Motorhome Roof Window fan TTC-SC21

Upadate your RV! RV Window fan& Roof Vent fan& Table fan (TTC-SC21)

DIY Venitng for RV/Motorhome fan review(TTC-SC20/TTC-SC19/TTC-SC21)

DIY: Installed on the side of RV window (Including Testing Temperature, Noise and fan speed)

YouTuber Recommend of Replacement roof window fan (TTC-SC21)

Titan's RV ventilation review (TTC-SC21/ TTC-SC22)

TITAN RV Cooling Fan (TTC-SC09/ TTC-SC22/ TTC-SC09)

Files Download

Related Products

FAQ
TITAN RV-ventilatorserie
Dit is een sereus TITAN RV-product, het zal u helpen de verschillen te begrijpen.

Downloaden
TITAN's 12V DC dubbele omkeerbare dakraamventilatie RV-ventilator
TITAN Technology Limitedis een fabrikant van koelventilatoren en computerkoelers uit Taiwan, in de productie en ontwikkeling van veelzijdige producten voor koelventilatoren en computerkoelers. Ze bieden klanten sinds 1989 innovatieve koelproducten, waaronder computerkoelers, koelventilatoren, mobiele koeling, CPU-koelers, DC-ventilatoren, pc-koelkits, laptop-koelkussens, omvormer.
TITAN, opgericht in 1989, is een uitstekende leider op thermisch gebied, met een passie en een eliteteam van ingenieurs. Gevestigd in Taiwan en een filiaal opgericht in Duitsland. TITAN heeft grote hoeveelheden distributeurs in een veelzijdig gebied van de wereld. Onze producten worden over de hele wereld gezien en verdienen een glorieuze reputatie en vertrouwen. We breidden het aantal productielijnen uit om aan verschillende eisen te voldoen en bouwden de productiefabriek in Guang Dong, China, die 460 werknemers heeft en maandelijks minstens 1,2 miljoen eenheden produceert.