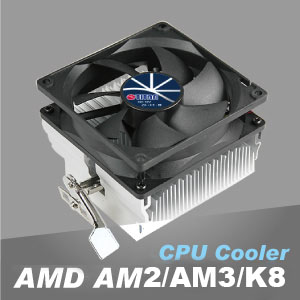 AMD AM2 / AM3 / K8 CPU Cooler
CPU Air Cooling Cooler for Intel AM2/ AM3/ K8 Socket.
These CPU air coolers designed for AM2/AM3 K8. With thermal cooling technology, equipped with aluminum cooling soldering fins optimizes the heat dissipation and fasten the heat conductivity. The brilliant design ensures the quick and easy installation brings you incredible cooling performance.
---
TITAN RV-ventilatorserie
Dit is een sereus TITAN RV-product, het zal u helpen de verschillen te begrijpen.

Downloaden
TITAN AMD AM2 / AM3 / K8 CPU-koelerservice Introductie:
Gevestigd in Taiwan sinds 1989,TITAN Technology Limitedis een AMD AM2 / AM3 / K8 CPU Cooler leverancier en fabrikant met meer dan 27 jaar ervaring. Alle producten zijn CE-, TUV- en UL-veiligheidsgecertificeerd en de fabriek heeft ISO9001- en ISO14001-certificeringen.
TITAN, opgericht in 1989, is een uitstekende leider op thermisch gebied, met een passie en een eliteteam van ingenieurs. Gevestigd in Taiwan en een filiaal opgericht in Duitsland. TITAN heeft grote hoeveelheden distributeurs in een veelzijdig gebied van de wereld. Onze producten worden over de hele wereld gezien en verdienen een glorieuze reputatie en vertrouwen. We breidden het aantal productielijnen uit om aan verschillende eisen te voldoen en bouwden de productiefabriek in Guang Dong, China, die 460 werknemers heeft en maandelijks minstens 1,2 miljoen eenheden produceert.
TITAN biedt klanten sinds 1989 hoogwaardige computerkoeler, koelventilator, mobiele koeling, CPU-koeler, DC-ventilator, pc-koelkits, laptop-koelpads, omvormer, beide met geavanceerde technologie en 27 jaar ervaring. eisen wordt voldaan.