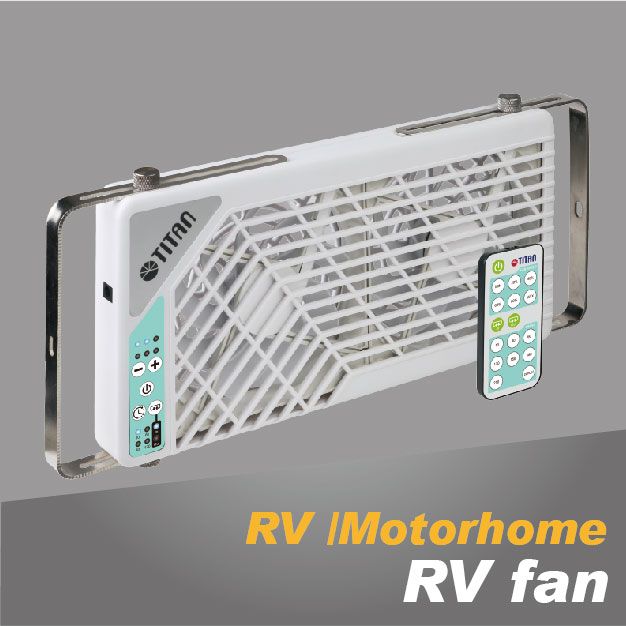 RV Cooling fan
TITAN RV ventilation fan in All RV, Motorhome
With the change of climate and cooling industry, TITAN recently transfer the spotlight to the RV ventilation field. TITAN observed the market of outdoor and RV ventilation. By over 30 years successful operating and professional experiences, TITAN first time created an innovative RV ventilation fan for RV fridge in 2012. The RV fridge fan brought the impression and shock of RV markets. The product actually solved the overheat problem of RV fridge all the time.
---
Therefore, TITAN launched a series of RV related ventilation product to resolve the ventilation problem of RV, Motorhome, and they provided a great amount with sales, dealers, distributors, and custom buyers in RV field. For now, TITAN founded another RV cooling industry and created a good reputation in worldwide. With professional and manufacturing team, TITAN could help you to create your own RV fan and solve any ventilation issues.
¿Cómo podría TITAN personalizar el ventilador de su RV?
Customize RV rack fan sets
According to different sizes of fridge and rooftop, we provide a customized service to perfectly fit to your RV fridge and anyplace where you want to cool on RV. The cooling unit can be combined with single rack fan, double rack fan, triple rack fan, and so on. 9cm, 12cm and 14cm fan is the commonly used size. The whole fan size range is combinable. Welcome to contact us to customize. Besides, please kindly notice that multiple RV fan kits are customized product, generally consumed RV double fan such as TTC-SC22 series, TTC-SC20 series, TTC-SC09 series, etc. could not be combined like below photos. Special customized RV fan needs different design and specification.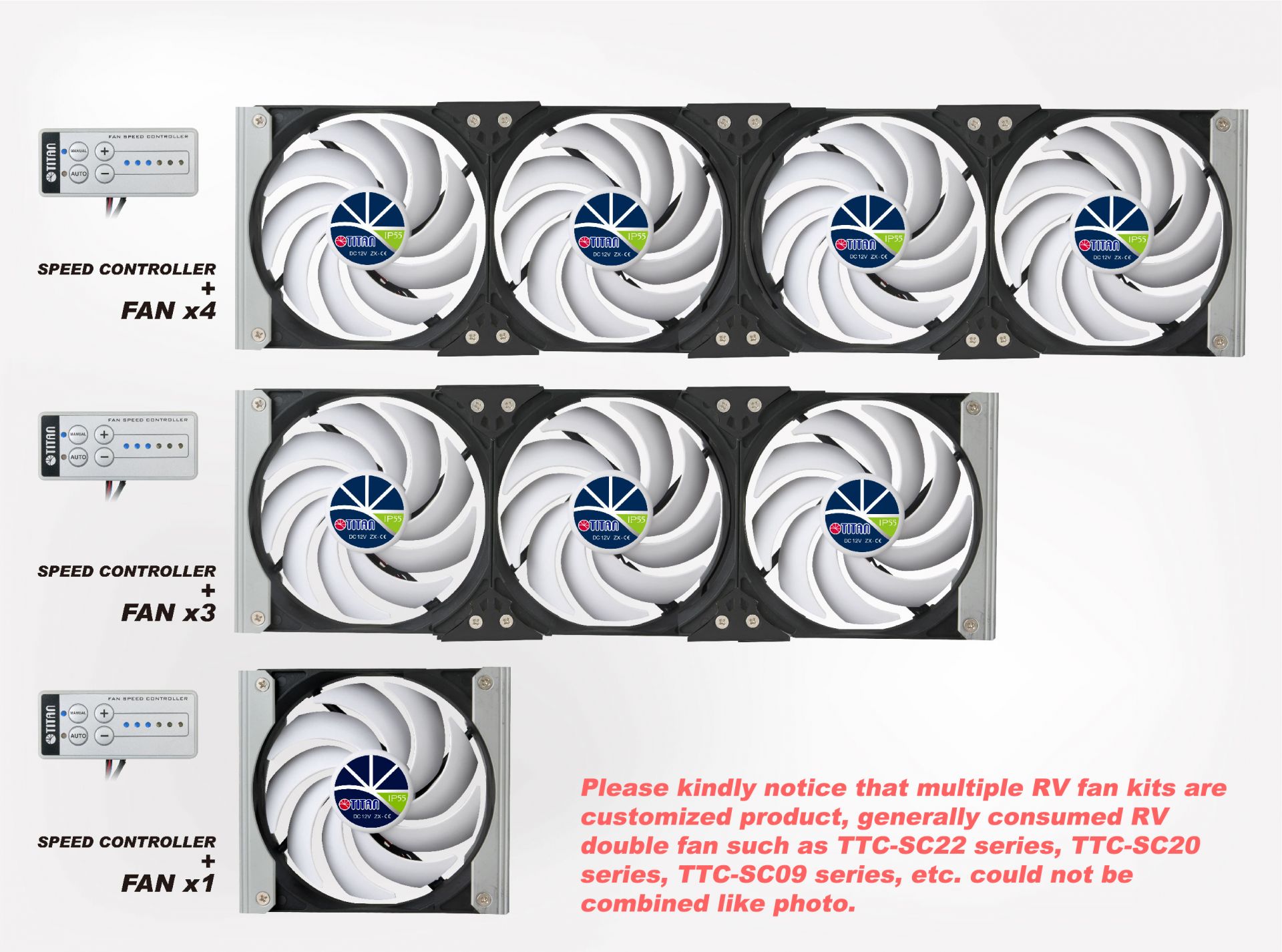 Customize a IP55 waterproof fan for your RV/Motorhome is necessary
IP55 waterproof fan is the advantage of TITAN manufacturing cooling fan. You could design a IP55 waterproof fan in your RV fan design. It would make your RV fan unique in the targeting market. According to the distribution experience, the water-resistant is a crucial feature in RV market, they could be used in the outdoor environment. TITAN could provide you a high quality IP55 waterproof fan in the RV ventilation fan.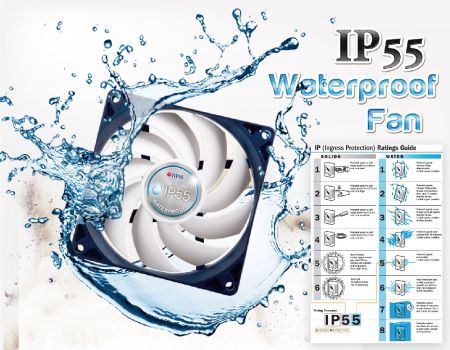 Customized RV fan speed controller function can provide differentiation from other brands
TITAN could design the Microcontroller Unit which could control fan speed, temperature, humidity, odor levels, timer setting and any other function you want to do. Automatically or manually changing fan speed according to the detected temperature from heating place to achieve the power saving and silent operating. Detecting the humidity inside the RV automatically turns on the fan to accelerate the ventilation. And then adding timer setting would help your RV fridge fan and rooftop fan more humanity, comfortable just like being at home.
Customize RV fan controller type
You are able to be equipped with the controller to you RV fan. We could support you with separate speed controller or controller monitor embedded with the fan itself.
Customize fan specification
We could customize any your RV fan specification such as voltage, volume, air flow, static pressure, and fan speed. You can check more fan details on our DC fan product page and let us discuss the specification. We will give you a better suggestion for the thermal solutions.

TITAN RV Fan Series
This is TITAN RV product serous, it will help you to understand the differences.

Descargar
Introducción al servicio de ventilador de refrigeración TITAN RV
Con sede en Taiwán desde 1989,TITAN Technology Limitedes un proveedor y fabricante de ventiladores de refrigeración para vehículos recreativos con más de 27 años de experiencia. Todos los productos tienen certificación de seguridad CE, TUV y UL y la fábrica tiene certificaciones ISO9001 e ISO14001.
Fundada en 1989, TITAN es un destacado líder en el campo térmico, con un equipo de ingenieros de élite y pasión. Ubicada en Taiwán y establecida una sucursal en Alemania. TITAN tiene una gran cantidad de distribuidores en áreas versátiles del mundo. Nuestros productos se ven en todo el mundo y ganan una gloriosa reputación y confianza. Ampliamos la cantidad de líneas de producción para satisfacer diversas demandas y también construimos la fábrica de fabricación en Guang Dong, China, que tiene 460 empleados y produce mensualmente más de 1,2 millones de unidades al menos.
TITAN ha estado ofreciendo a los clientes enfriadores de computadora, ventiladores de enfriamiento, enfriamiento móvil, enfriadores de CPU, ventiladores de CC, kits de enfriamiento para PC, almohadillas de enfriamiento para computadoras portátiles, inversor de corriente de alta calidad desde 1989, ambos con tecnología avanzada y 27 años de experiencia, TITAN garantiza que cada cliente se cumplen las demandas.