5V DC 140mm USB Mobile Portable Camping Tent Cooling Fan with Embedded Magnet For Camping & Outdoor
TTC-NF82TZ(RB)
USB fan, Cooling fan, Tent fan, Camping fan, Window bug fan
Cooling Anywhere!
TITAN Mobile Cooling fan with embedded magnet- let you easily cooling anywhere.
Take the level of computer heatsink to launch a professional mobile cooling fan.
 
By the magnet design, this mobile cooling fan is able to attach onto any mesh materials without any space limit such as bug screen, screen room, window mesh, camping tent, rv side screen window, or mosquito net. Accelerate the stronger airflow and then significantly reduce temperature. What's more, this fan is built-in 140mm professional silent fan, let you enjoy cool experience and away from annoying noise. Supporting USB interface, provide great amounts of convenience.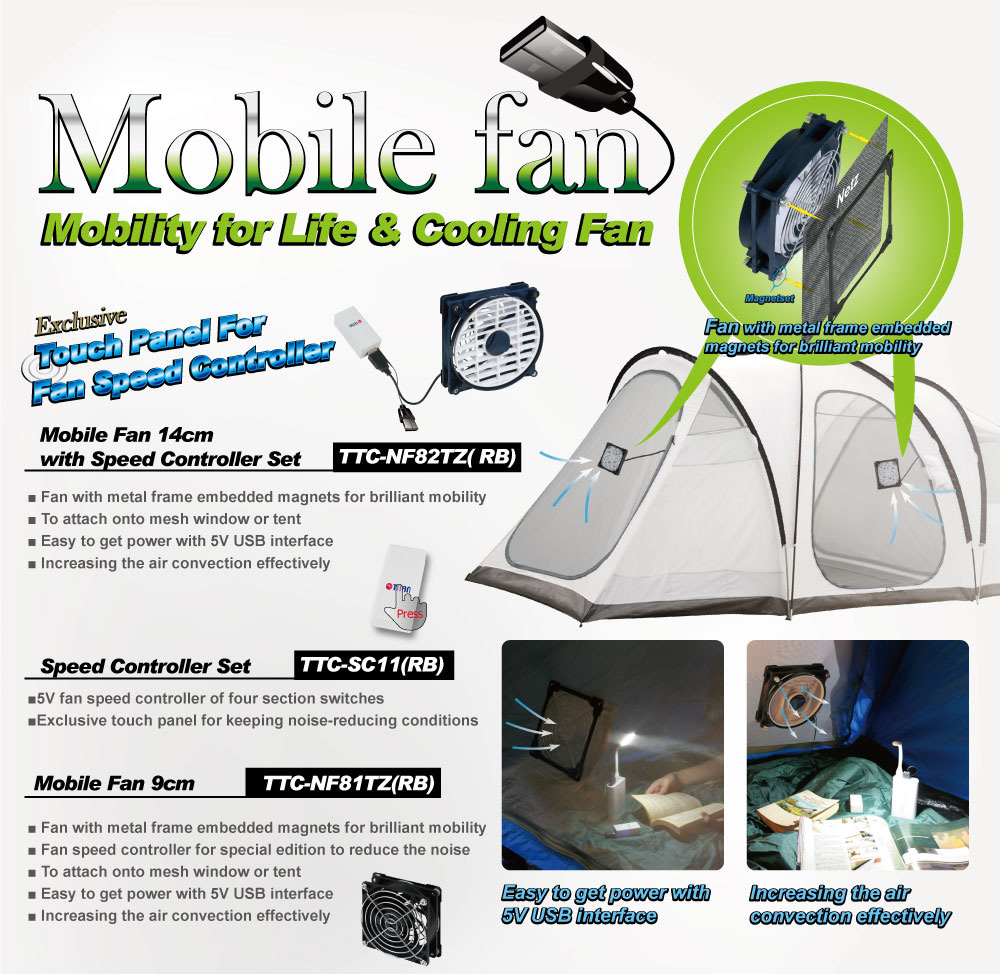 Features
Mobile Fan Embedded Magnet to Attach Everywhere
Fan with metal frame embedded magnet, make it can attach onto bug screen, window screen, mesh window or capming tent.
140mm Quiet Fan to Reduce Temperature
Increasing airflow to accelerate air convection.
Touch Panel to Control Speed
Easy operation for excusive touch panel to control fan speed.
USB Interface for Power Support
Easy to get power with 5V USB interface.
Applications
Camping Tent ventilation cooling fan
Mothproof screen cage ventilation cooling fan
Computer cooling fan
Specification
Outline Dimension: 140 x 140 x 45 mm
Fan Dimension: 140 x 140 x 25 mm
Rated Voltage: 5V
Rated Current: 0.4 A
Power Consumption: 2 W
Rated Speed: 1500 RPM
Airflow: 74.5 CFM
Static Pressure: 0.06 Inch H₂O
Noise Level: < 24.8 dBA
Connector: USB
Package Volume
1CTN(PCS): 40
N.W.(KGS): 12.8
G.W.(KGS): 18.2
MEAS'T(CUFT): 3.4
MOQ
MOQ: 500 stuks;
Photo Gallery

Related Products

TTC-NF81TZ(RB)

Cooling Anywhere!   TITAN Mobile Cooling fan with embedded magnet- let you easily cooling...

Details

TTC-NF82TZ(RB)

Cooling Anywhere!   TITAN Mobile Cooling fan with embedded magnet- let you easily cooling...

Details

TTC-SC11(RB)

Did you worry about fan noise problem? Don't worry! This is what you need: A Super Fan Speed...

Details

FAQ
TITAN RV-ventilatorserie
Dit is een sereus TITAN RV-product, het zal u helpen de verschillen te begrijpen.

Downloaden
TITAN 's 5V DC 140mm USB Mobile Portable Camping Tent Cooling Fan with Embedded Magnet For Camping & Outdoor
TITAN Technology Limited is a cooling fan and computer cooler manufacturer from Taiwan, in versatile cooling fan and computer cooler products manufacturing and developing market. They have been offering customers innovative cooling products including computer cooler, cooling fan, mobile cooling, CPU cooler, DC fan, PC cooling kits, laptop cooling pads, power inverter since 1989.
Founded in 1989, TITAN is an outstanding leader in thermal field, with a passion and elite team of engineers. Located in Taiwan and established a branch office in Germany. TITAN has great amounts of distributors in versatile area of the global. Our products seen all over the world and earning glorious reputation and trust. We expanded amounts of producing lines to fit various demands as well as built the manufacturing factory in Guang Dong, China, which has 460 employees and monthly producing over 1.2 million units at least basis.