TITAN New Product in 2017 - Coming Soon!
(Coming Soon) Launched New Camping fan- Vent fan & Roof window fan
Multi-Purpose Rack fan- for vent
 
Double Rack fan for refrigerator vent and ventilation grille
 
Model: TTC-SC22
---
08 Jul, 2017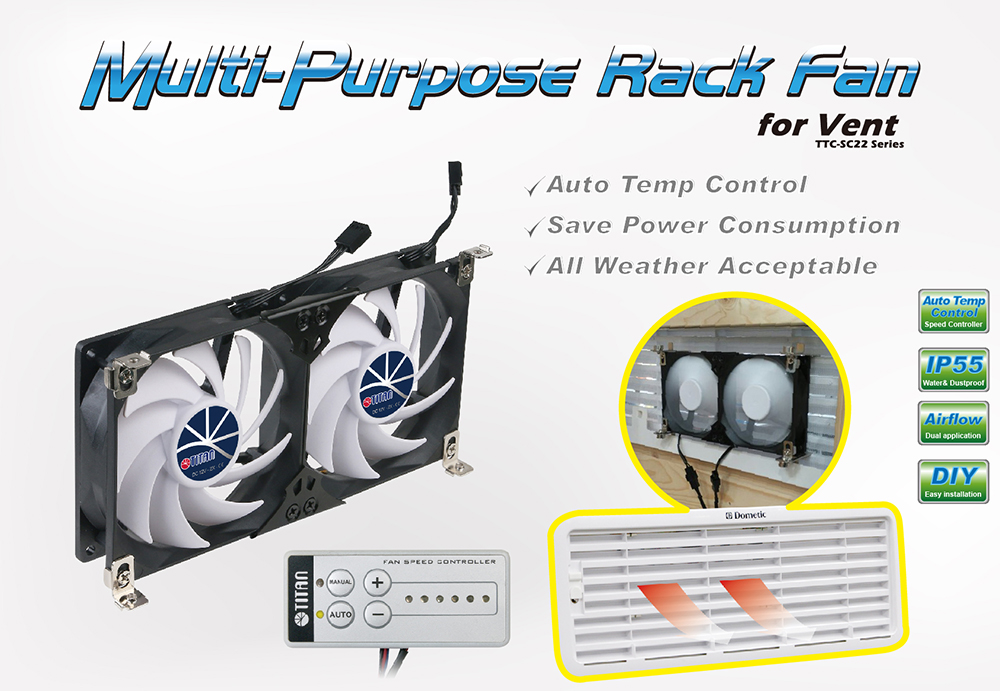 • Easy and Silent Operation.
• Save Power Consumption.
• All Weather Acceptable.
 
1. Flexible and intelligent speed control mode
 
- Auto Temperature Control
 
20°C (68°F) auto turn off the fan
 
45°C (113°F) automatically operate at maximum speed
 
-Manual controller to adjust for particular needs
 
2. IP 55 Waterproof fan design- perfect for outdoor use
 
3. Dual application way for air out or in
 
4. Rack hook design for easy install on refrigerator vent
Multi-Purpose Rack fan- for roof window
Model: TTC-SC21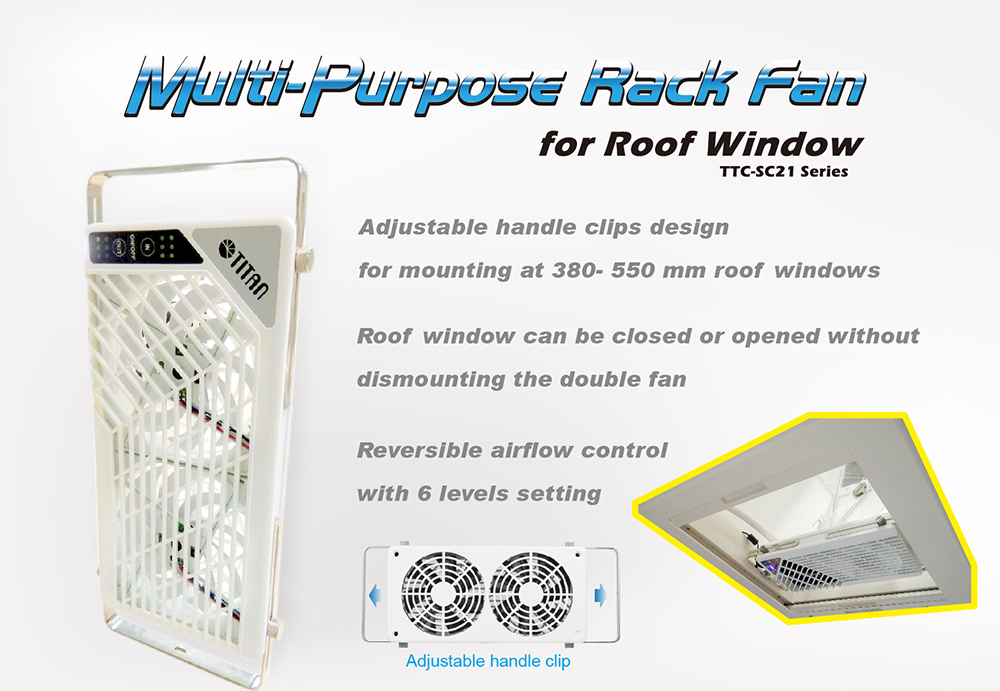 Adjustable handle clips design for mounting at 380- 550 mm roof windows.
Roof window can be closed or opened without dismounting the double fan.
Quickly heat transfer and regulated circulation.
Reversible airflow control with 6 level settings and stapleless panel.
TITAN RV-ventilatorserie
Dit is een sereus TITAN RV-product, het zal u helpen de verschillen te begrijpen.

Downloaden
TITAN Service Introduction
Based in Taiwan since 1989, TITAN Technology Limited provides various ventilation solutions in all thermal field, such as RV fan, CPU cooler, and any types of cooling fans. All products are CE, TUV, and UL safety certified and the factory has ISO9001 and ISO14001 certifications.
Founded in 1989, TITAN is an outstanding leader in thermal field, with a passion and elite team of engineers. Located in Taiwan and established a branch office in Germany. TITAN has great amounts of distributors in versatile area of the global. Our products seen all over the world and earning glorious reputation and trust. We expanded amounts of producing lines to fit various demands as well as built the manufacturing factory in Guang Dong, China, which has 460 employees and monthly producing over 1.2 million units at least basis.
TITAN has been offering customers high-quality computer cooler, cooling fan, mobile cooling, CPU cooler, DC fan, PC cooling kits, laptop cooling pads, power inverter since 1989, both with advanced technology and 27 years of experience, TITAN ensures each customer's demands are met.