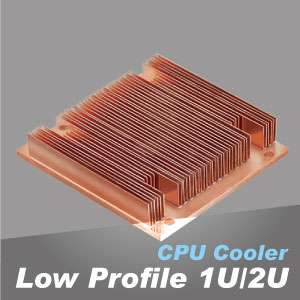 Low Profile 1U / 2U CPU Cooler
CPU Air Cooling Cooler for Low Profile 1U/2U CPU Cooler
TITAN low profile CPU cooler designed to use in limited space such as for customized server, slim case, POS and industrial computer etc.
It features exclusive HDT heat pipe design that directly touch the heat source and immediately transfer the heat bringing you outstanding efficient heat dissipation and cooling performance.
---
TITAN RV-ventilatorserie
Dit is een sereus TITAN RV-product, het zal u helpen de verschillen te begrijpen.

Downloaden
TITAN Low Profile 1U / 2U CPU Cooler Service Introductie
Gevestigd in Taiwan sinds 1989,TITAN Technology Limitedis een Low Profile 1U/2U CPU Cooler leverancier en fabrikant met meer dan 27 jaar ervaring. Alle producten zijn CE-, TUV- en UL-veiligheidsgecertificeerd en de fabriek heeft ISO9001- en ISO14001-certificeringen.
TITAN, opgericht in 1989, is een uitstekende leider op thermisch gebied, met een passie en een eliteteam van ingenieurs. Gevestigd in Taiwan en een filiaal opgericht in Duitsland. TITAN heeft grote hoeveelheden distributeurs in een veelzijdig gebied van de wereld. Onze producten worden over de hele wereld gezien en verdienen een glorieuze reputatie en vertrouwen. We breidden het aantal productielijnen uit om aan verschillende eisen te voldoen en bouwden de productiefabriek in Guang Dong, China, die 460 werknemers heeft en maandelijks minstens 1,2 miljoen eenheden produceert.
TITAN biedt klanten sinds 1989 hoogwaardige computerkoeler, koelventilator, mobiele koeling, CPU-koeler, DC-ventilator, pc-koelkits, laptop-koelpads, omvormer, beide met geavanceerde technologie en 27 jaar ervaring. eisen wordt voldaan.