12V DC Double Ventilation Cooling Rack RV Fan with Timer and Speed Controller
TTC-SC19(A), TTC-SC19(B), TTC-SC19(C)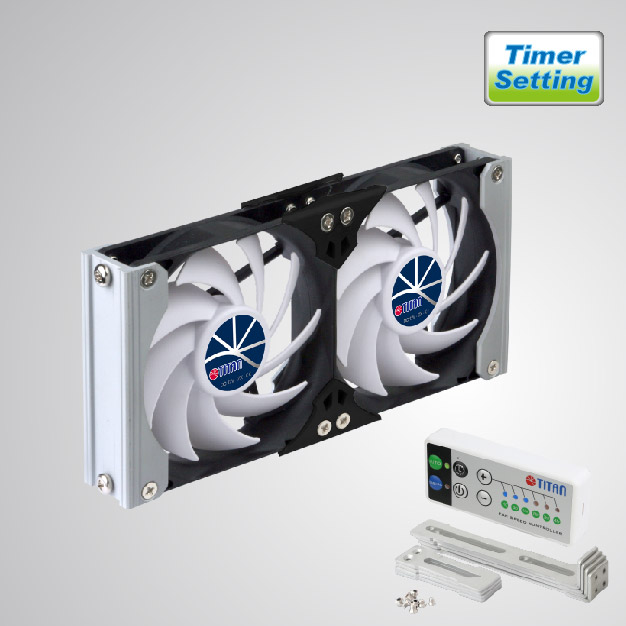 Rack Mount cooling fan can be applied to refrigerator vent fan in RV, or be Audio/Vedio cabinet fan, TTC cabinet fan, home theater cabinet fan, amplifier ventilation fan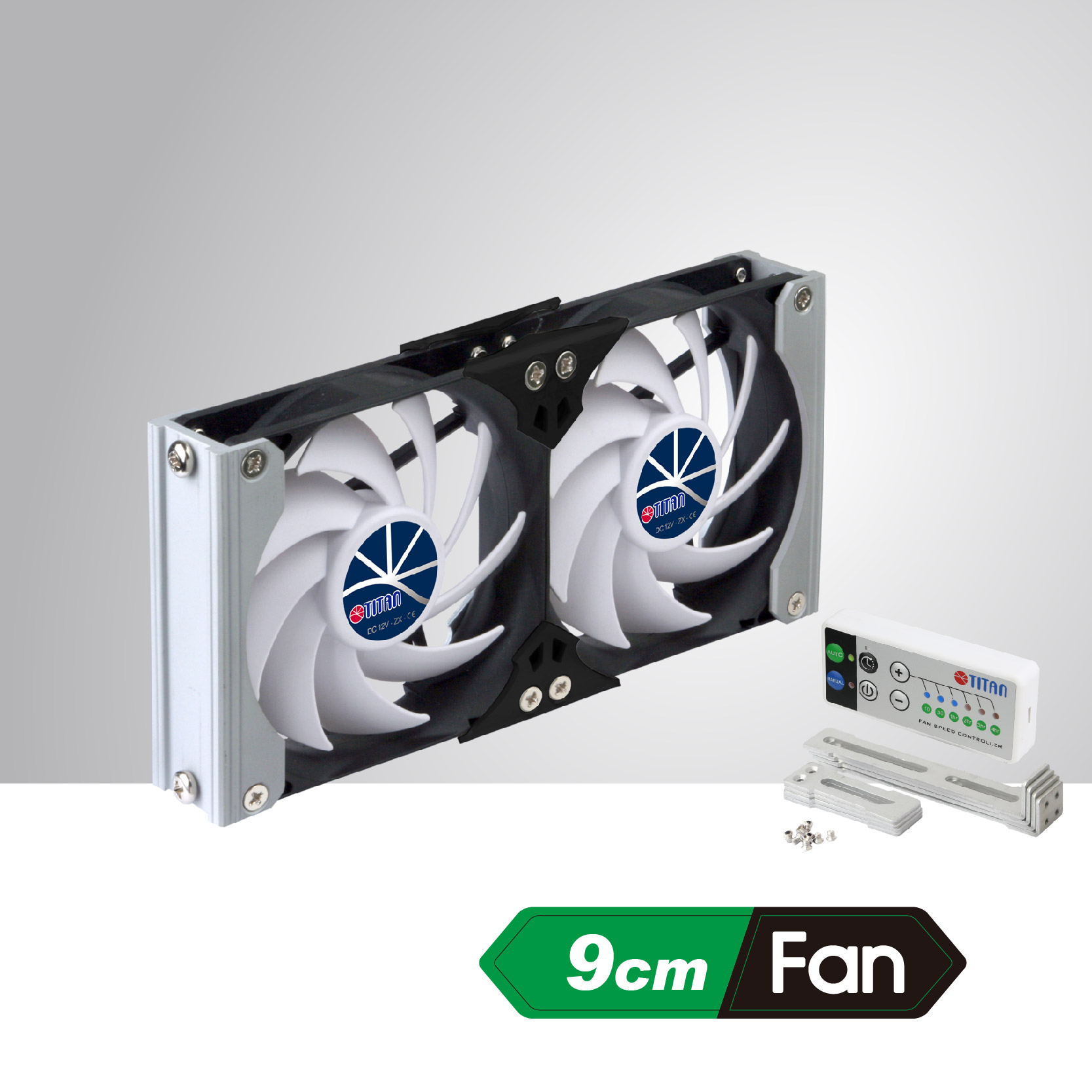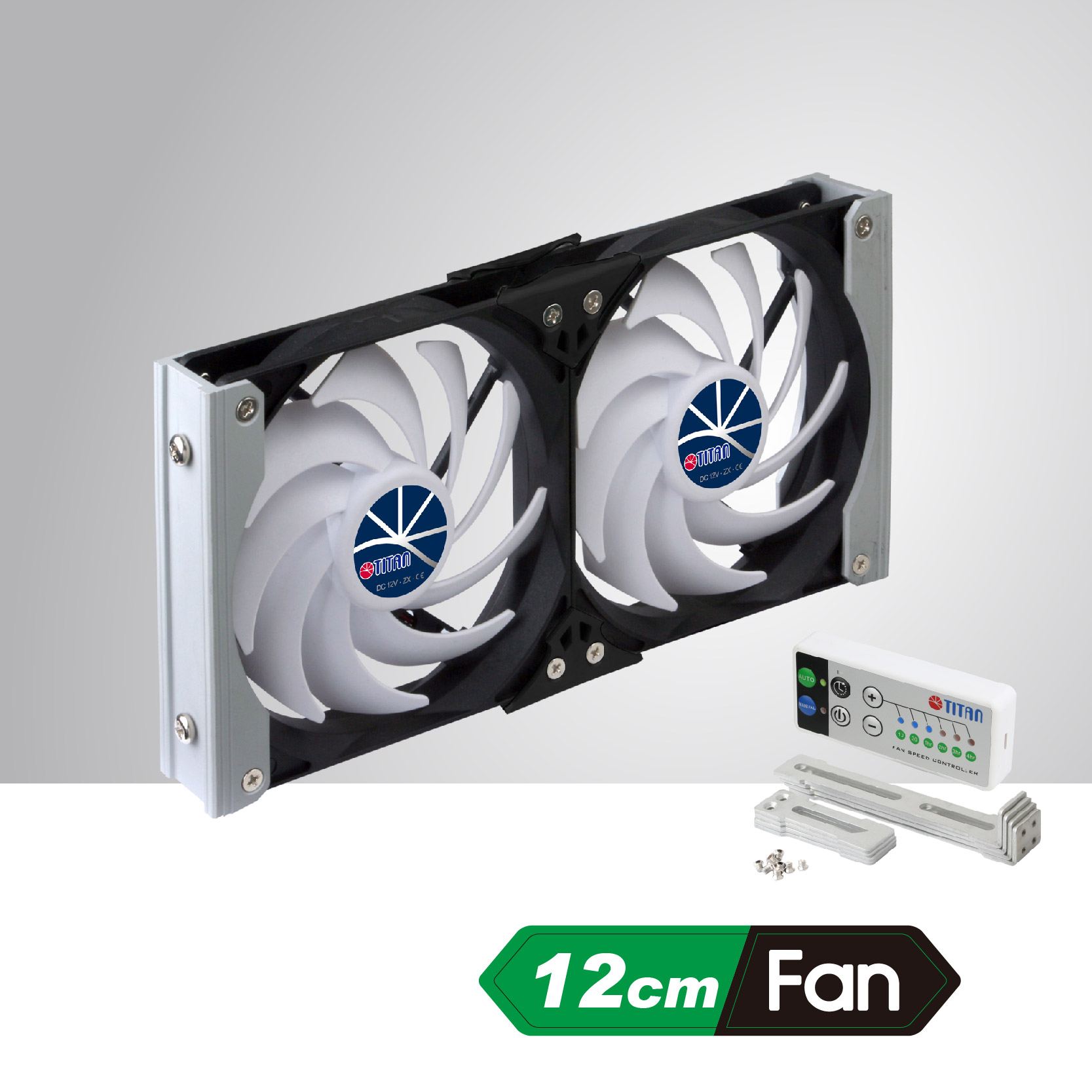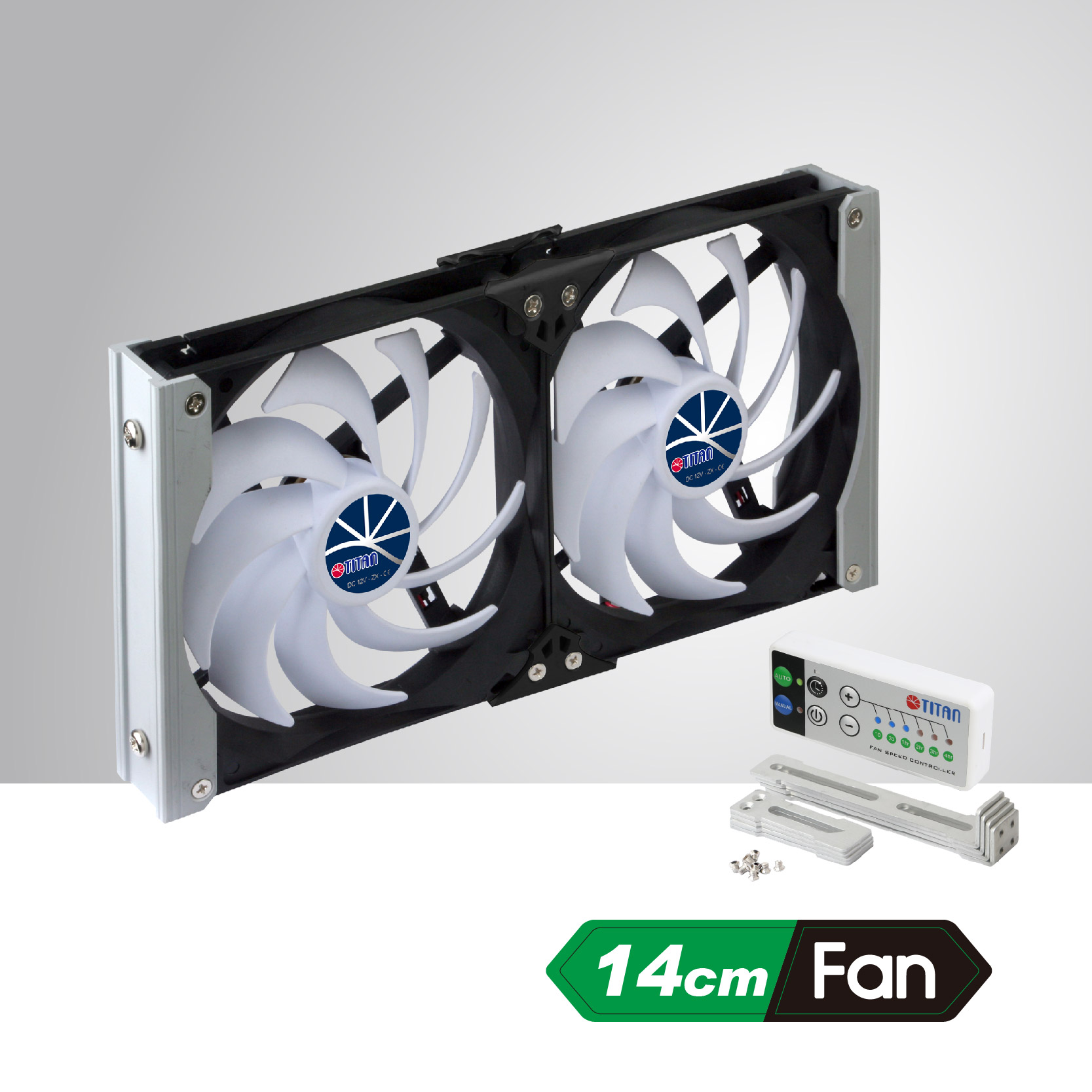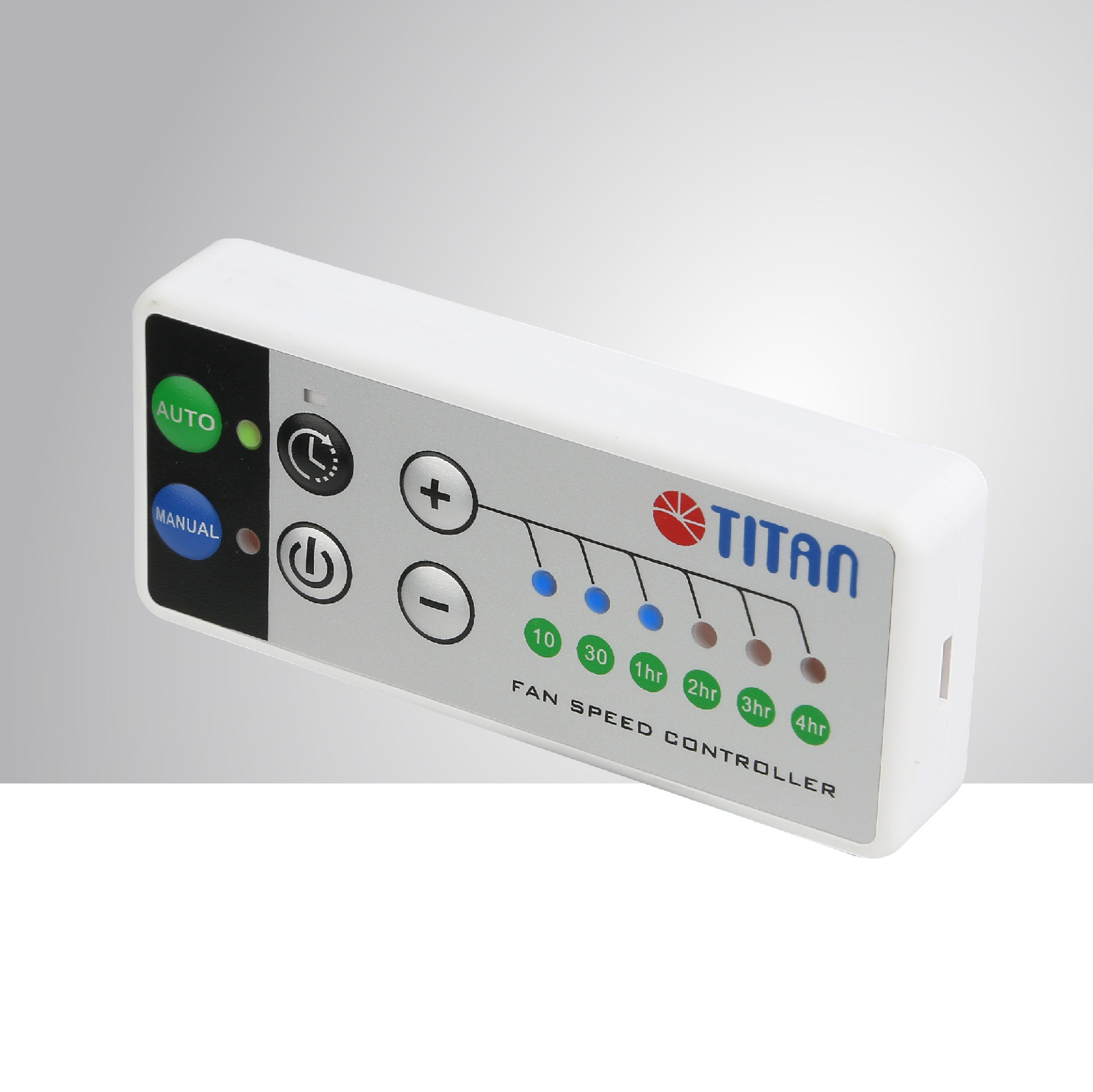 TITAN 12V DC Double Rack fan is equipped with 6-levels timer setting and speed control. The fan has the mode of auto and manual, you can easily swich modes and make you both has a whisper operation experience and perfect cooling performance. With functional rack mounting set and 6-levles timer setting, you can easily install on any places near the device you want to cool down and reinforce ventilation immediately and controll the time of operation. 12V Double fan is great for RV vent fan, RV top ventilation fan, Motorhome Side window fan, RV fridge fan, bus conversion fan, Skoolie venilation fan, or ventilation cabinet fan.
You do not need to design a DIY mount fan and speed controller to fit your all cooling requirements. This is the perfect cooling solution made for you. All of them we have prepared, experimented and mostly assembled. The only things you need to think is where to cool and then easily install. There are 3 sizes for you to choose: 90mm, 120mm, and 140mm.

This mounting rack fan is perfect for ventilation updating. The double rack fan can be applied to external or internal refrigerator fan in the RV, Motorhome, camper van, camper truck, travel trailer, or cabinet. The rack fan is ideal for updating or replacement ventilation cooling ventilation fan in RV fridge vent, home theater cabinet ventialtion, home server cabinet ventiltiaton, audio/ video cabinet ventilation, deta cabinet cooling, network cabinet cooling, etc. Solve various electronic application thermal problems in camping, outdoor, and other cooling/ ventilation requires for all customers.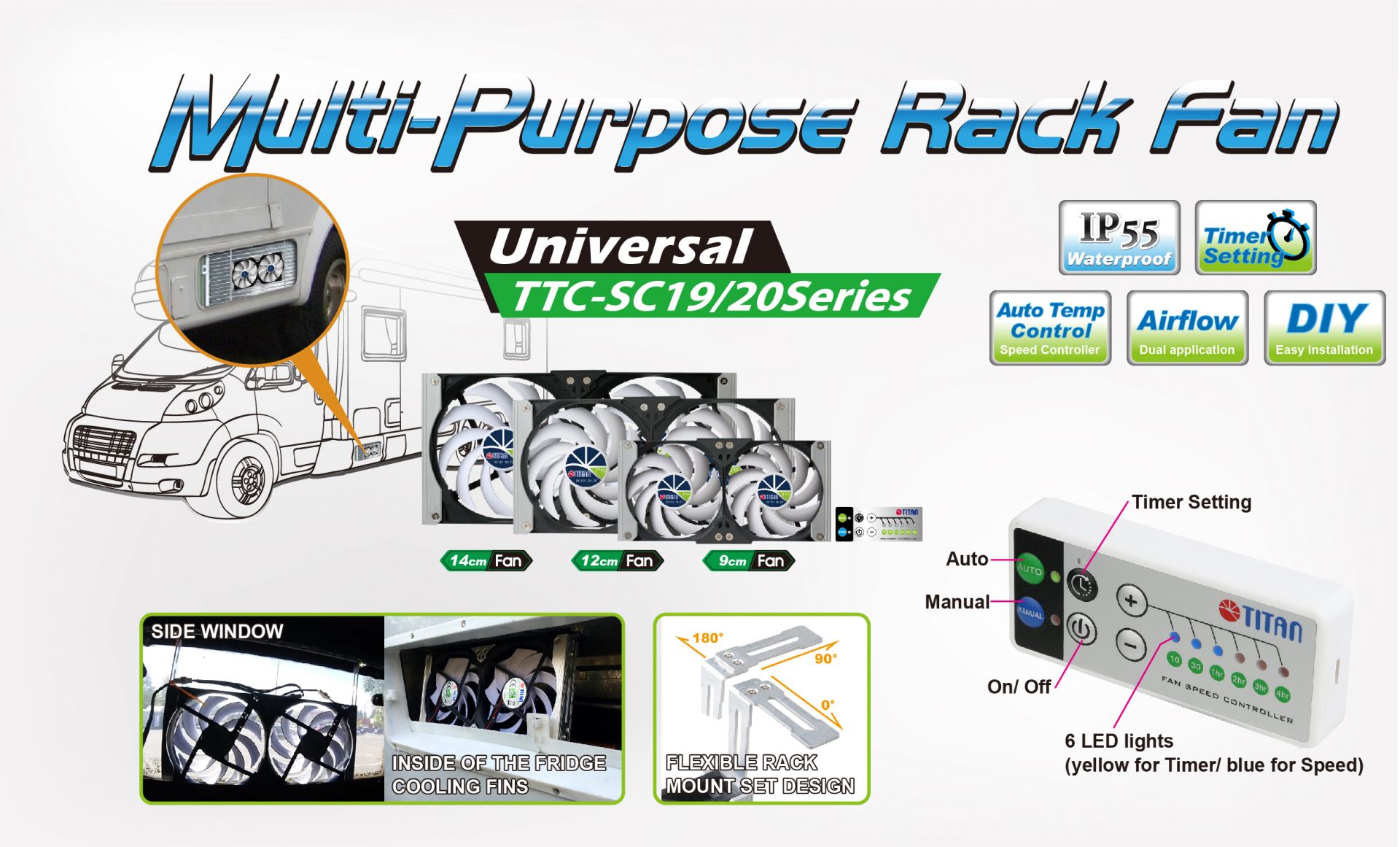 Features
WIDELY COOLING APPLICATION-
Great for refrigerator vent fan in your RV, and also be applied to ventilation fan in home theater cabinet, audio/video cabinet, TTC cabinet, home server cabinet, ventilation cabinet, network closet ventilation cooling, inside canopy ventilation, canopy cooling
FLEXIBLE AND SMART SPEED CONTROL MODE
- Auto Temperature Control
20°C (68°F) auto turn off the fan
45°C (113°F) auto operate at maximum speed
-6-levels manual controller to adjust for particular needs

6 LEVELS TIMER SETTING
POWERFUL DUAL SPEED CONTROLLER MODEL-
With high-value aluminum speed controller, it can switch auto control with a temperature sensor or manual speed control depending on your need.
SILENT OPERATION FAN -
Take TITAN professional 9-blades kukri silent fan, this multi-purpose fan or fridge vent fan provides you the quietest operation experience without any disturbing.
Applications
Refrigerator/ fridge venitlation cooling fan
Fridge Vent Cap cooling fan
Cabinet ventilation cooling fan
Audio/Video ventilation cooling fan
Home theater ventilaton cooling fan
Home server cabinet ventilation cooling fan
Teletphone Terminal wall Cabinet cooling fan
Amplifier ventilation cooling fan
Car /Automotive/ Vehicle amplifier Cooler Cooling fan
Wall cabinet mounted ventilation cooling fan
Network rack and cabinet veniltation cooling fan
Bus coversion DIY ventilation cooling fan
Skoolie ventilation cooling fan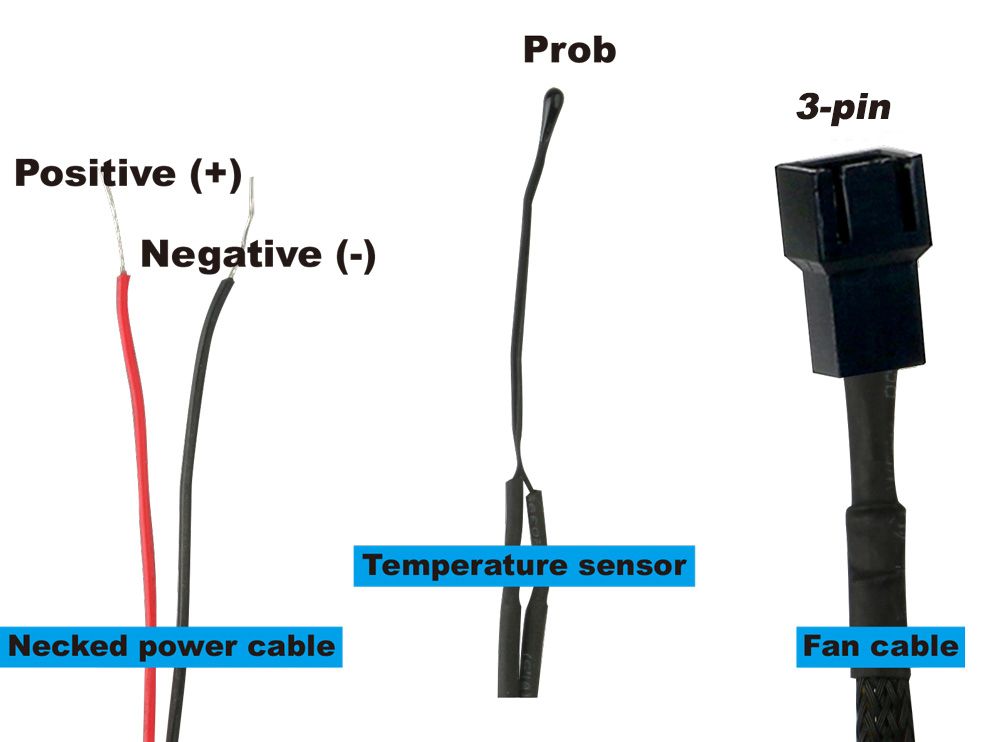 Specification
TTC-SC19(A)
Outline Dimension:184 x92 x30mm
Fan Dimension: 92 x 92 x 25 mm*2
Rated Voltage: 12V DC
Rated Current: 0.48 A
Power Consumption: 5.76 W
Rated Speed: 500~2600 RPM
Airflow: 20.4~106 CFM
Static Pressure: 0.06~0.12 Inch H₂O
Noise Level: <6~28 dBA
Bearing Type: Z-AXIS
Life Time: 60,000 Hours
Lead Wire: UL2468# 26AWG
TTC-SC19(B)
Outline Dimension: 240 x 120x 30 mm
Fan Dimension: 120 x 120 x 25 mm*2
Rated Voltage: 12V DC
Rated Current: 0.56 A
Power Consumption: 6.72 W
Rated Speed: 400~2000 RPM
Airflow: 24.5~121.13 CFM
Static Pressure: 0.05~0.12 Inch H₂O
Noise Level: <8~32.9 dBA
Bearing Type: Z-AXIS
Life Time: 60,000 Hours
Lead Wire: UL2468# 26AWG
TTC-SC19(C)
Outline Dimension: 290 x 145 x 31 mm
Fan Dimension: 140 x 140 x 25 mm*2
Rated Voltage: 12V DC
Rated Current: 0.8 A
Power Consumption: 9.6 W
Rated Speed: 500~1800 RPM
Airflow: 49.7~178.86 CFM
Static Pressure: 0.06~0.12 Inch H₂O
Noise Level: <6~28.8 dBA
Bearing Type: Z-AXIS
Life Time: 60,000 Hours
Lead Wire: UL2468# 26AWG
Manual Speed Range

Speed Level

TTC-SC19(A)
TTC-SC19(B)
TTC-SC19(C)

Level 1

500 PRM
400 PRM
500 PRM

Level 2

1000 PRM
700 PRM
700 PRM

Level 3

1400 PRM
1000 PRM
900 PRM

Level 4

800 PRM
1300 PRM
1200 PRM

Level 5

2200 PRM
1600 PRM
1500 PRM

Level 6

2600 PRM
1800 PRM
1800 PRM
Fan rack slide rail range
Rack fan 90mm: 230~296mm
Rack fan 120mm: 230~294mm
Rack fan 140mm: 230~321mm
RV fan, Refrigerator vent fan, Cabinet Ventilation fan, fridge fan, Motorhome fan
Package Volume
TTC-SC19(A)
1CTN(PCS): 20
N.W.(KGS): 11.6
G.W.(KGS): 12.6
MEAS'T(CUFT): 1.96
TTC-SC19(B)
1CTN(PCS): 16
N.W.(KGS): 11.5
G.W.(KGS): 12.5
MEAS'T(CUFT): 2.1
TTC-SC19(C)
1CTN(PCS): 16
N.W.(KGS): 13.5
G.W.(KGS): 14.5
MEAS'T(CUFT): 19.6
MOQ: 1000pcs
Photo Gallery

Related Videos

Introduction of RV Cooling fan with Timer (TTC-SC20/TTC-SC19)- English Version

Introduction of RV Cooling fan with Timer (TTC-SC20/TTC-SC19) -Japan Version

TITAN RV Cooling Fan (TTC-SC09/ TTC-SC22/ TTC-SC09)

TITAN RV/Motorhome fan series introduce (TTC-SC21 /TTC-SC09/ TTC-SC22)

Titan's RV ventilation review (TTC-SC21/ TTC-SC22)

Files Download

---

Related Products

---

FAQ
Press Release
2018 Computex Taipei

TITAN will participate in Computex Taipei held on June 5- June 9, 2018. Show our latest cooling fan and related computer cooler.

Read More

USB Tower Cooling Fan for Car & Baby Stroller

This is a USB tower cooling fan for car fan, baby stroller fan, wheelchairs fan or office fan etc.

Read More

USB Ultra-Silent Cooling Fan

Equipped with 140mm professional cooling fan. It is strong airflow, ultra-quiet, and log life time.

Read More