RV fan
TITAN RV ventilation fan in All RVs
Features
TITAN design a series special fan for many camping ventilation such as fridge fan, side vent fan, bathroom window fan, Roof top window fan, any mounted ventilation fan, or fan with magnet for tent. They can apply at camping tent, motorhome, caravan, RV, camper truck, camping tent, grow tent, and so on. Solve various application thermal problems in camping, outdoor requires for all customers. Specially, TITAN camping fan also designed professional speed controller for most camping fan to make our client balance between silent operation and strong airflow and have a good camping experiences.
Customize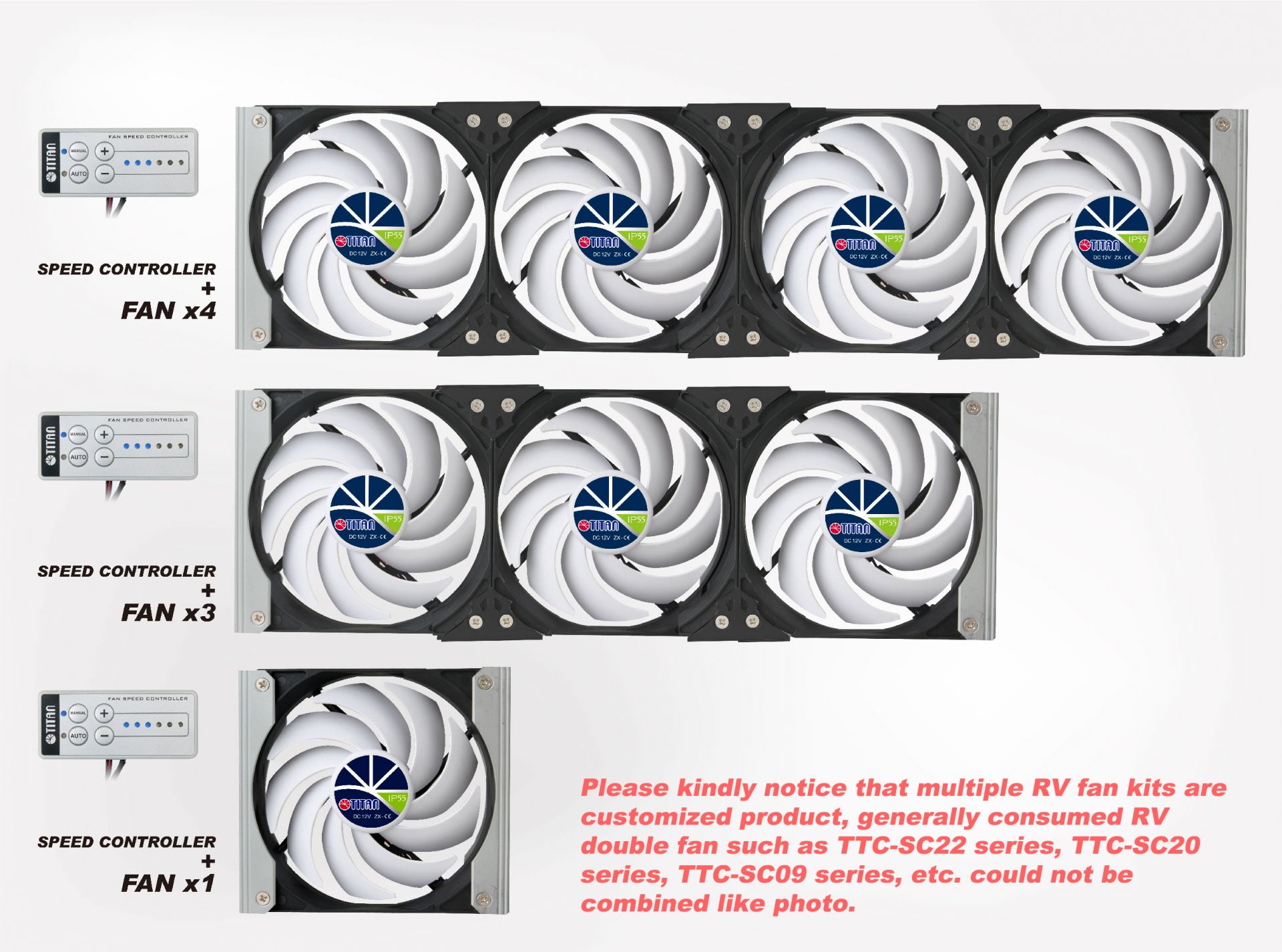 Customize RV rack fan sets
Depend on your RV fan design in your RV or Motorhome, the fan could be combined with single rack fan, double rack fan, triple rack fan, and so on. The whole fan size range is combinable.
Customize a IP55 waterproof fan for your RV/Motorhome
IP55 waterproof fan is the advantage of TITAN manufacturing cooling fan. You could design a IP55 waterproof fan in your owned RV ventilation fan. It would make your RV fan unique in the targeting market. According to the distribution experience, the water-resistant is a critical feature in RV market, they could be used in the outdoor environment. TITAN could provide you a high quality IP55 waterproof fan in the RV ventilation fan.
Customize RV fan speed controller function
We are able to customize a speed controller for your RV fan, and there could be equipped with various function such as customized RV fan speed levels, timer setting, temperature detection, humanity detection, odor detection, RV lighting, etc. We have a great technique team to support all the function you want to comply with your customized RV ventilation fan.
RV controller fan function of temperature, humanity, order detection
TITAN could design the fan MCU and the controller which could be controlled by temperature, humanity, or odor levels to adjust the fan speed automatically or manually. Moreover, it could be on the saving mode of auto-stopping when the temperature lower than unique setting temperature
Customize RV fan controller type
You are able to be equipped with the controller to you RV fan. We could support you with separate speed controller or controller monitor embedded with the fan itself.

Customize fan specification
We could customize any your RV fan specification such as voltage, volume, air flow, static pressure, and fan speed. You can check the detail specification information of DC cooling fan product page. Choose the fan size you want. Whatever your RV fan wants to be great volume, or low noise, all we could customize your own RV ventilation fan for sure.
---
Press Release
2018 Computex Taipei

TITAN will participate in Computex Taipei held on June 5- June 9, 2018. Show our latest cooling fan and related computer cooler.

Read More

USB Tower Cooling Fan for Car & Baby Stroller

This is a USB tower cooling fan for car fan, baby stroller fan, wheelchairs fan or office fan etc.

Read More

USB Ultra-Silent Cooling Fan

Equipped with 140mm professional cooling fan. It is strong airflow, ultra-quiet, and log life time.

Read More